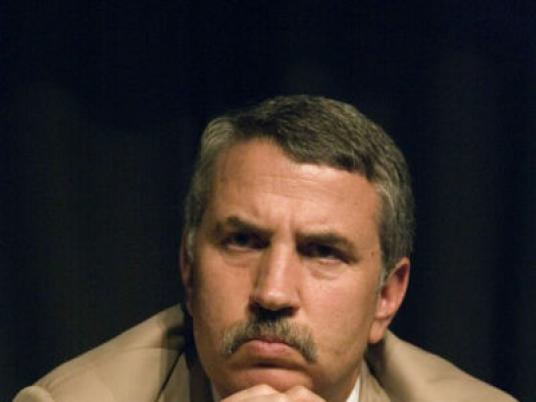 The influential American columnist Thomas Friedman has received fierce criticism from a Facebook page backed by Egypt's military, which accused him of failing to recognize the changes that are talking place in Egypt.
The administrators of the official Supreme Council of the Armed Forces (SCAF) page on Facebook advised Friedman to "watch and learn and to refrain from writing in order not to make mistakes."
The statement seem to be a reaction to a newly-published article by Friedman in which he slammed the Egyptian government for its crackdown on pro-democracy NGOs.
In his New York Times column on 21 February Friedman argued that the crackdown on nonprofit organizations, including the referral of at least 16 Americans and 27 others to trial on charges including the illegal use of foreign funds, "tells you how incomplete the "revolution" in Egypt has been and how vigorously the counter-revolutionary forces are fighting back."
The military's Facebook page replied by saying that: "No matter how much we differ, this is an internal affair. We will not allow anyone to interfere to attribute the revolution to foreign powers or to hijack it."
"It obvious that you have so far failed to realize that the Egyptian revolution is 100% Egyptian, from its beginning and until its completion, God willing, with the handover of power to an elected civilian authority despite attempts at impeding this step by all of those with interest in that…"
Furthermore, the statement went on to quote previous writings by Friedman in which, it says, he praised Hosni Mubarak and his son Gamal.
The page cited an article by Friedman dating back to 5 June 2002, alleging that the columnist praised Mubarak for his efforts to warn the US of possible attacks from Al-Qaeda.
However, the article does not show a very positive attitude toward Mubarak. Friedman wrote "Let me be blunt. Egypt is the center of gravity of the Arab world. It has the biggest middle class, the best-educated population and the people with the most potential. Egypt should be the Taiwan of the Mediterranean. But it is a country that has been stagnating, to a degree that smaller Arab countries are now passing it by."
The military page also referred to an article by Friedman in which the latter allegedly described Gamal as "good man."
In fact, Friedman wrote on 16 December 2004, "I didn't hear talk like that five years ago. Nor did I hear an Egyptian friend remarking to me that she had absolutely no problem with Hosni Mubarak's son, Gamal, one day succeeding his father. Gamal is a good man. She just had one condition, that Gamal Mubarak succeed his father the same way George W. Bush succeeded his father: in a free election."
"We cannot blame you for the continual transformation of your writing to serve the interests of your country," the SCAF's Facebook page said. "But we reject insults to the government, its ministers and the ruling SCAF because you are now speaking about a new Egypt whose decisions serve its interests and not those of others."