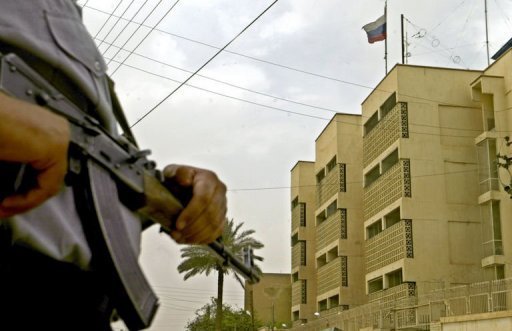 As Islamic State loses ground in Iraq and Syria, the Sunni militant group which once held territory amounting to a third of those countries is turning to sabotage to ensure its enemies cannot benefit from its losses.
As the Syrian army and allied militias advanced under heavy Russian air cover on the ancient city of Palmyra three weeks ago, Islamic State leaders ordered fighters to destroy oil and gas fields.
"It is the duty of mujahideen today to expand operations targeting economic assets of the infidel regimes in order to deprive crusader and apostate governments of resources," an article in the group's online weekly magazine al-Nabaa said.
The strategy poses a double challenge to Baghdad and Damascus, depriving their governments of income and making it harder to provide services and gain popular support in devastated areas recaptured from the militants.
The March 2 article said operations by Islamic State in the area around Palmyra "prove the massive effect that strikes aimed at the infidels' economy have, confusing them and drawing them … into battles they are not ready for."
It's not just oil wells the group has targeted. Twice in the last two years it has taken over Palmyra, about 200 km northeast of Damascus, and both times destroyed priceless antiquities before being driven out.
A Syrian antiquities official said earlier this month that he had seen serious damage to the Tetrapylon, a square stone platform with matching structures of four columns positioned at each corner. Only four of the 16 columns were still standing.
In their earlier occupation of the city, the militants ruined an 1,800-year-old monumental arch and the nearly 2,000-year-old Temple of Baalshamin.
However, the article in al-Nabaa suggested Islamic State sees the destruction of tangible economic assets as a greater weapon against the government of President Bashar al-Assad, who is from Syria's Alawite minority.
"In the first days of the second conquest of Palmyra, where fighters secured the city and other vast areas to the west that include the Alawite regime's last petrol resources … the Alawite regime and its allies rushed to the depth of the desert to reclaim them," Islamic State wrote.
"But the caliphate's soldiers had beaten them to the punch and destroyed the wells and refineries completely so that their enemies could not gain from them and so that their economic crisis goes on for the longest time possible."
'MASS DESTRUCTION POLICY'
Islamic State, which declared a caliphate across large parts of Iraq and Syria in 2014, has lost much territory and many fighters as it comes under attack from a US-backed Iraqi offensive in Iraq and three separate ground forces in Syria.
Iraqi troops have recaptured most of Mosul, the largest city to be taken by the group and the base from which its leader proclaimed the caliphate. In Syria, the group has lost Palmyra and its main stronghold, Raqqa, is surrounded.
As well as destroying resources before they pull out, the militants have stepped up insurgent attacks in areas beyond their control, especially in Iraq.
"Any harm to the economic interests of these two governments will weaken them, be it an electricity tower in Diyala, an oil well in Kirkuk, a telecommunications network in Baghdad, or a tourist area in Erbil," the article in al-Nabaa said.
It said those attacks would further stretch the group's enemies by forcing them to defend economic interests, weakening their readiness for the battles to come.
Islamic State has caused about US$30 billion in damage to Iraqi infrastructure since 2014, an adviser to the Iraqi government on infrastructure told Reuters.
"Daesh has used a mass destruction policy on factories and buildings with the aim of causing as much economic harm to Iraq as possible," said Jaafar al-Ibrahimi, using an Arabic acronym for the group.
"Over 90 percent of infrastructure that has come under their hands was destroyed. Daesh burned all oil wells in the Qayyarah field south of Mosul."
They also destroyed sugar and cement factories and transported the equipment to Syria, he said.
In Syria, the militants destroyed over 65 percent of the Hayan gas plant, the country's oil minister told the state news agency. The Hayan field, in Homs province where Palmyra is located, produced 3 million cubic meters of natural gas per day.
(Reporting by Ali Abdelaty in Cairo; Additional reporting by Ahmed Rasheed in Baghdad; Writing by Ahmed Aboulenein; Editing by Dominic Evans and Mark Trevelyan)