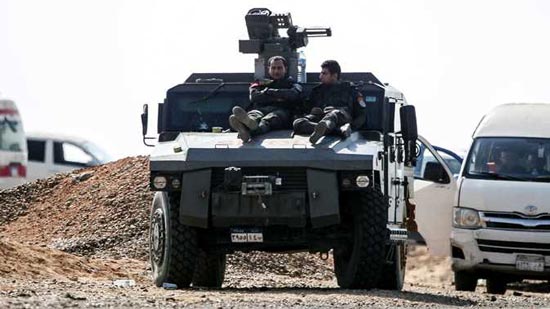 (1)
Many long hours passed before the Interior Ministry released a statement on what happened in Wahat. I don't know what to call it until now. Shall I call it a terrorist attack? Or a clash with a terrorist group?
We understood from the statement that there was a plan for this raid, after national security agencies received information about terrorists in that area, and that the forces were searching for them. But what happened after proved that this information was meant to hunt down our sons who have been targeted with "heavy weaponry," according to the Interior Ministry statement.
The Interior Ministry's statement said that the number of martyrs was 16 with 13 injured. However, some Arab and international media organizations reported that those killed and injured are twofold these figures. Some of these media organizations, known for accuracy, such as the BBC and al-Arabiya, reported that the martyrs numbered 52, citing Egyptian security sources.
(2)
Egypt slept with sadness and pain that night because of the news that police had been killed and martyred in Wahat. Some public figures Tweeted as a way to analyze and comment on the incident, drawing social media attention.
Tweets from Lieutenant Generals Ahmed Shafik and Sami Anan used the same words and expressions, and their talk suggested treason and security negligence that led Egypt to lose some of its finest sons in terms of their efficiency and abilities.
TV host Amr Adib also talked of treason: "Whatever the ordeal, we are up to it. But the real disaster is that we don't understand, and we don't have the ability to uncover this fatal penetration," Adib said, and suggested that the blatant betrayal in Wahat operation is not the first.
"I am not searching for the terrorists now, I am searching for the traitor," he said.
(3)
Amid this confusion, from where are the Egyptian people getting their information and how can they obtain a clear and honest perception of what happened? The Interior Ministry's statement is not enough, and in this case it is normal to look for answers from Arab and foreign news channels as well as social media networks.
Of course there will be a mixture of rumors and facts, and we can not blame the people. State-owned media failed to carry out its role on Friday. After I learnt of the incident I tried to look through Egyptian channels for more details, and I was surprised to find all the channels did not change their usual programs, as if nothing has happened.
Even in the talk shows we didn't find commentary on or analysis of this terrorist attack that targeted the brave police officers and loyal soliders, as if Wahat is a spot beyond the borders of Egypt, as if what happened doesn't even deserve to change the Egyptian satellite channels' boring and monotonous programs.
(4)
The Interior Ministry statement issued on Saturday called on the media to investigate the accuracy of security information before publishing it and to rely on official sources. It also requested that the concerned bodies are given the chance to verify the information, especially in light of what may be imposed by the circumstances of security confrontations and their developments.
In fact, it was the lack of a quick statement from the ministry that led to confusion and conflicting statements about the number of police martyrs. The Interior Minister should have addressed the public on Friday, explaining what happened in short and postpone the announcement of the number of victims until after the evacuation of the martyrs and the injured, so that they can be counted. But the delay by Interior Ministry made some point to a state of confusion in the ministry, as well as a blackout in communication between leaders and officers.
(5)
Honesty and transparency is much needed in this incident. The public have questions they need answered — what happened in Wahat, why and how? And these many questions need quick and decisive answers.
May God have mercy on our martyrs, the righteous, and God save Egypt and the Egyptians.