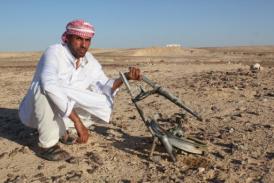 Major General Ahmed Wasfy, second field army commander, said on Monday that citizens can own lands in Sinai without complications and that mobile networks will be operated within a few days.
In December, Defense Minister Abdel Fattah al-Sisi banned the private ownership, rental and use of nearly all land on Egypt's eastern border.
Wasfy met with a number of Sinai tribesmen in Ismailia, as part of a series of meetings that have the stated intention acknowledging their problems and offering solutions from the military.
At the meeting, Wasfy encouraged those present to pressure the community to turn in unlicensed arms and to fight people trafficking. He also highlighted the importance of their cooperation to restore security in Sinai.
The meeting was also attended by several figures affiliated to the second field army, which is deployed in Sinai and currently in the process of destroying the tunnels on borders with Gaza.
Press reported that the security situation in Sinai was a main topic in the meeting, in addition to the efforts exerted by the armed forces to meet the needs of citizens in terms of development, medical care, the digging of wells, water desalination and increasing medical convoys to remote areas.
Several tribesmen reportedly expressed appreciation for the national role played by the military to address people's problems, stressing the strong ties between the military and Sinai residents.

Edited translation from Al-Masry Al-Youm