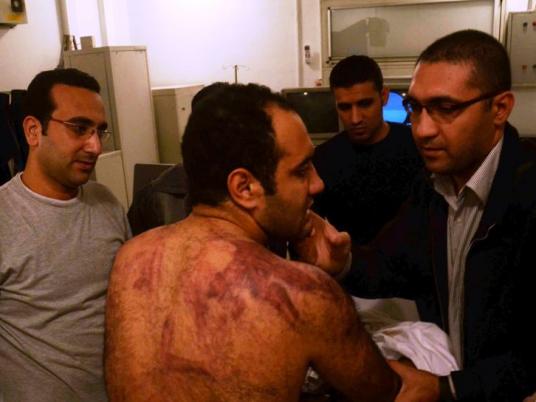 Central Security Forces reportedly physically assaulted photojournalist Ahmed Gomaa of the privately-owned Al-Dostor newspaper on Tuesday while he was covering clashes between protesters and security forces in Simón Bolívar Square near the US Embassy in Cairo.
An ambulance transferred Gomaa to Misr International Hospital for treatment after he felt severe fatigue. According to eyewitnesses the police confiscated his equipment, his personal belongings, and his cell phone.
Gomaa's colleagues said that Journalists Syndicate has not contacted him, and they expect him to file a complaint against the Interior Ministry once he recovers.
Photos of Gomaa circulated on several news outlets, showing swelling and signs of a brutal beating on his arms and shoulders.
In a similar incident on Monday, security forces physically assaulted Mohamed al-Qamash, a journalist at Al-Siyasi magazine, an Al-Masry Al-Youm corporation publication, while he was covering clashes in the same square.
A fire began near the embassy while protesters were marching in the funeral of April 6 Youth member Gaber Salah, known as Jika, who died Sunday from injuries suffered in clashes on Mohamed Mahmoud Street earlier this week.
After the fire broke out, Qamash was heading back to his office when security forces seized his cell phone and beat him with sticks, witnesses reported.
Edited translation from Al-Masry Al-Youm