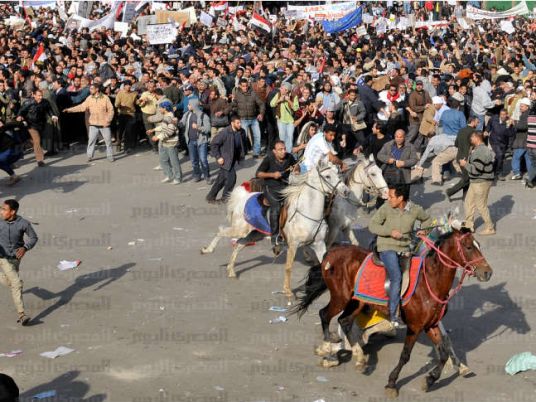 Police and army forces maintained their positions around Cairo's Tahrir Square on Monday with several troops deployed at the area's exits and entrances on the anniversary of one of the most violent incidents that occurred during the 2011 uprising, publicly known as the "Battle of the Camel."
While the traffic flow was smooth, vital facilities in the area, most notably the Interior Ministry's building, the parliament and embassies, were surrounded with strict security presence.
The 2 February 2011 attack by horse- and camel-riders on anti-Hosni Mubarak protests in Tahrir Square had left nearly 14 dead and hundreds injured.
High-profile figures of the Mubarak regime, most notably former parliament speaker Ahmed Fathy Sorour, were acquitted of charges of masterminding the attack in May 2013.
More than 20 were killed on 25 January in clashes with police while commemorating the fourth anniversary of the uprising that toppled Mubarak.
Edited translation from Al-Masry Al-Youm
(*Correction: "hundreds dead," were changed to "hundreds injured.")