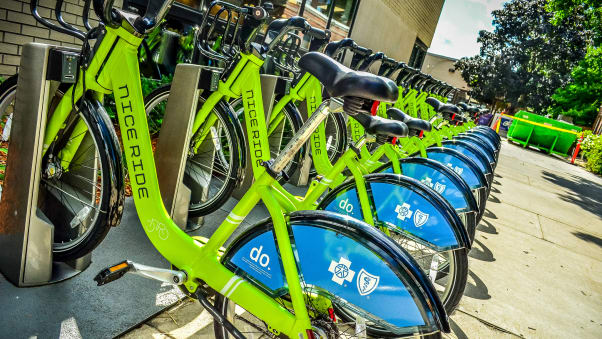 Cairo's air has been ranked as the second most polluted in the world by the World Health Organization (WHO) on Tuesday. However, a new initiative might be beginning to change that. Nahdet al-Mahrousa, Egypt's oldest social change incubator, launched a new initiative named "Sekketak Khadra" (Your Path is Green), aiming to transform Cairo into a greener, more bike friendly city.
"The idea behind the initiative is to encourage people to leave their cars behind and opt for biking instead," Rana al-Sadek, communications manager at Nahdet al-Mahrousa tells Egypt Independent, "We partnered with organizations such as the Danish Embassy in Cairo, the Cairo Governorate, the UN Habitat and our local community partner Heliopolis Heritage, with the aim to install 100 bike racks all over Cairo."
But the main challenge to "Sekketak Khadra" was finding where to put the bike racks, "We began conducting mapping studies, along with surveys asking people where would be the best places to put bike racks. We picked locations with security and cameras. By the end, we pin-pointed more than one-hundred locations in Masr al-Gedida (Heliopolis) and downtown. We chose Masr al-Gedida because it has a large number of cycling projects," Al-Sadek continues.
However, this is just a beginning, as the initiative aims to spread the bike racks all-over Cairo.
"We've also included bike racks at Korba, but they're still in the testing phase. If this goes well, we aim to spread further."
But "Seketak Khadra" is about more than bike racks, the bigger purpose of the initiative is to spread the biking culture itself, "We (Nahdet Al-Mahrousa) love taking part in socially-responsible projects that aim to improve the community," Al-Sadek continues, adding that "biking is very environmental and makes Cairo a greener city, which will benefit the community and the city of Cairo."