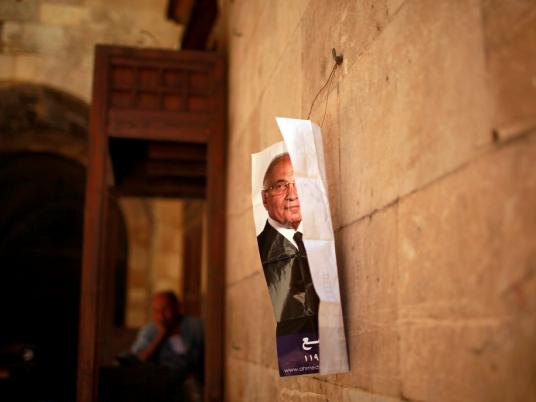 Ahmed Shafiq's campaigners were shocked, dismayed and in utter disbelief after the Presidential Elections Commission's announcement that the Muslim Brotherhood's Mohamed Morsy had won the runoff in the presidential election.
Shafiq's 12,374,380 votes, or 48.3 percent fell short of Morsy's 13,230,131, or 51.73 percent.
Before the announcement, the campaigners had no doubt that their candidate was the winner of the presidential elections.
Women broke into tears, while some fell to the ground. One campaigner fainted after screaming hysterically upon the news of Shafiq's defeat. Another snapped at, attacked and insulted a journalist in anger.
"They sold us to the Muslim Brotherhood," screamed Tamer Magdy, a campaigner.
"Everyone sold us. We knew that we are the winners. The PEC, the SCAF, and security [services] assured us that we were the winners," Magdy told Egypt Independent
"The Ikhwan won't leave us alone, we are now officially called 'felool,'" he added.
Ahmed Sarhan, the Shafiq campaign's spokesman, was nowhere to be found after the announcement for any official reaction.
A scheduled press conference at the JW Marriott hotel in Heliopolis, where the campaigners were watching the press conference on screens, was cancelled, the official campaign announced.
"Our country was sold at the cheapest price, and it's a loss to every honorable Egyptian," said a campaigner in tears, who preferred to remain anonymous.
"I am shocked but we have nothing to do but to wish Morsy all the best. I hope we see good during his rule. Of course, we are afraid of an Islamic state, but I hope we are wrong about our fears … I wish he becomes a president for all Egyptians as he claims," campaigner Manal al-Khoshkhany told Egypt Independent with tearful eyes, as she remained in her chair long after other campaigners left the room.
One campaigner called for the others to go protest at the Ministry of Defense, "if this is the case, then we should say down with military rule," she said.
Meanwhile, the state wire agency MENA reported that scores of Shafiq's supporters tried to block the street before the unknown soldier memorial in Nasr City in protest of Mohamed Morsy winning the presidency, forming a human shield and blocking the street with stones, but failed as cars refused to stop.