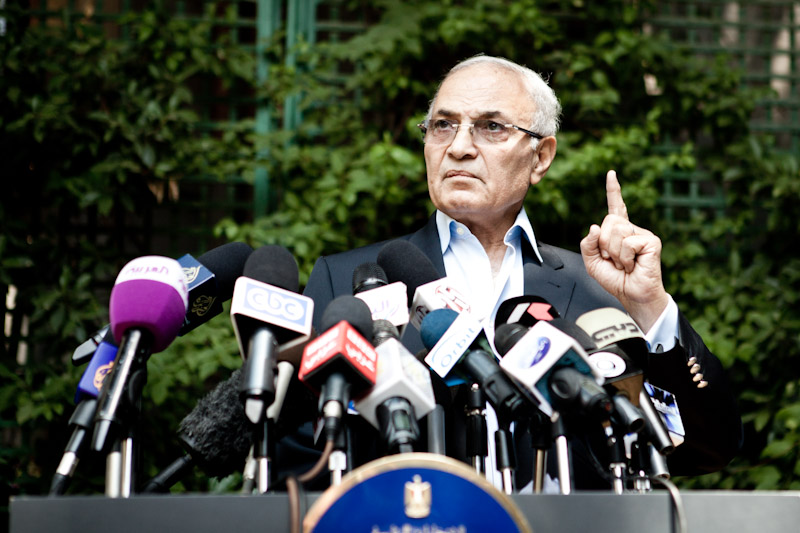 Presidential candidate and former Prime Minister Ahmed Shafiq denied on Wednesday rumors that he had suffered a stroke or been the victim of an assassination attempt.
Shafiq said during a press conference that he was in good health, even though he was visibly ill with a cold.
Shafiq said that the motto of his campaign is, "security, security, security, whether people like it or not."
"In response to people who frighten voters about Ahmed Shafiq, I say that with God's will I will put an end to chaos," he said. "I will help the country not turn into a bloodbath."
The former army officer also thanked the military and the police for their role in securing the elections. Should he lose, he said his supporters would respect the outcome and not take to the streets and squares in protest.
He repeated, twice, his belief that electing a "strong president" is in the interest of voters.
Should he win the election and people respond with protests, "the state must uphold security," Shafiq said.
He said there is a difference between the 25 January protests last year, which were a legitimate expression of anger and supported by 80 million Egyptians, and potential demonstrations against the presidential election results.
"The results express the people's wishes and not a single being can oppose that," he said.
Shafiq also denied being a remnant of the former regime. He said he has served under three presidents, but ultimately only serves Egypt, which he called his "big family."