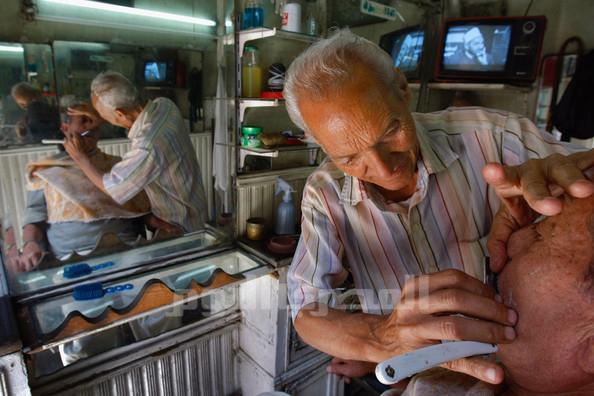 There are a few places one can see pictures of George Clooney, Leonardo DiCaprio, Tamer Hosny and Cristiano Ronaldo all grouped together in one frame: gossip magazines, pamphlets for celebrity fundraisers, the video of an ill-conceived goodwill song a la "We are the world," and the storefronts of Egyptian barbershops.
Could Salafi presidential hopeful Hazem Salah Abu Ismail feature alongside the list of celebrity fashion icons on storefronts? Despite "bearded men" trying to convince others to grow beards and dissuade barbers from shaving their customers, Egyptian barbers say Islamists have not fully succeeded in changing facial hair trends.
"There's a small dip in the amount of people that ask for shaves, but it's not huge," said Islam Mohamed, a 30-year-old barber in the upscale Heliopolis district of Cairo.
A few months ago, some sporadic reports surfaced about preachers and proselytizing men going barbershop to barbershop trying to guilt store owners into giving up the devilish act of shaving beards.
"A few guys came to our shop in Ramadan [last year] and told us that every time we shave beards, we're gathering sins and that we're going to pay for it on judgment day," said Bahaa Shaaban, a 27-year-old barber from Minya Governorate.
According to Shaaban, the preachers were not from his city. Three men came into his store dressed in shin-length white garbs, all with full beards.
"To be honest, for about a week we were scared we'd go to hell and stopped shaving beards. Then we realized we'd go broke, and went back to it," he said.
Word has got around to other barbershops that they may be engaged in cosmetological blasphemy.
"I'd like to know the truth. I started this year fearing I'm doing something forbidden. … Truthfully though, there's no way I can stop shaving beards," said Osama Salah, who has been a barber for seven years and works out of the impoverished Cairo neighborhood of Ain al-Seera.
The cut-and-shave is standard procedure for most barbers in Ain al-Seera, where haircuts are relatively cheap. Salah charges LE10 including a post-shave face mask, while at Mohamed's in Heliopolis the whole deal is LE50. A haircut alone only brings in about half as much.
According to Shaaban, beard shaving and trimming is not the biggest sin he was warned about.
"The face-hair plucking, they say, is the worst!" he said. Egyptian barbers often use threading to pluck excess facial hair, but Shaaban was warned against that. "I wouldn't pluck a guy's eyebrows, no normal barber would. But the thread helps take out cheek hair at its roots. What's wrong with that?"
Shaaban's preachers would be happy to hear that threading is falling out of vogue these days anyway.
"To be honest, it's a difficult and tedious skill to learn, and customers don't have the patience for it anyway. We just convince them that the razor is just as good," Islam said. Soon, he reckons, no one will ask for threading anymore.
Up until 2011, Salah, a self-described religious man, had never been told he might go to hell for his job. He is hoping that, at some point, renowned Salafi scholar Mohamed Hassan will clarify the situation on his television show.
Some barbers claim to have been threatened by something more than divine retribution in Beni Suef Governorate, but Cairo barbers don't seem perturbed.
"We heard of some other barbers getting threats to stop shaving beards, but look around, it's not like everyone is growing their beards and cutting their hair," said Islam.
In fact, Mohamed explains, kids are still into "weird" hairdos. These days mohawks and Cristianos are in, both made famous by soccer players like Manchester City's Mario Balotelli, who sports a full mohawk. Also, for the hair-gel rich, Cristiano Ronaldo's greasy coif is also in high demand.
"After cutting the hair, you let a bit grow in the front, and put a lot of gel to keep it up … a lot," Mohamed said.
Although in Ain al-Seera, barbers have a different name for that.
"It looks like a rooster head, so that's what we call it. Yes, lately that's been in high demand," Salah said.
"Tamer Hosny and Amr Diab have a lot of influence. When one of them colors his hair, straightens it or inexplicably shaves streaks through it, I'll find these kids coming over with a magazine cutout asking me to do the same to them," Salah said.
The veteran barbers interviewed say these trends only became popular in the last three to four years as more households have bought satellite dishes. Even professional wrestling influences some youth hairstyles.
"Lately I've been giving a lot of flat-top cuts, like the strong wrestlers," Salah said. The flat-top cut involves flattening the hair on the head with a lot of gel and brushing. "I think some people think it looks tough or fashionable."
Mohamed and Salah both say they have also had to iron more hair straight over the past couple of years.
But to be fair, most customers get straightforward cuts. Shaaban, who just moved to Cairo, says that simple cuts in the capital are still more complicated than back in Minya.
"In Cairo everyone likes to be specific. Back in Minya, a guy would just come in and say 'make it shorter,' and we'd know what to do," he said.
While the visiting preachers to his Minya store also asked them to "follow Islam" and clip customers' mustaches, Shaaban laughed off the suggestion.
"No one in Upper Egypt will shave their mustaches! If you don't have one where I'm from they consider it emasculating," he said.
With the possible exception of the Parliament Barber, most barbers will still be giving shaves for the foreseeable future. Unless pop culture takes on a different direction, the possibility of gel-less, bearded fashion trends looks bleak.