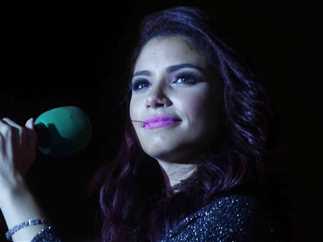 The largest international culture festival celebrating artistic work made by women, "She Arts", is coming to Egypt for the first time on September 9-11 at the Tahrir Cultural Center at the American University in Cairo.

Celebrating art produced by female artists from all over the world, the festival is a diversified program which aims to communicate and share their experiences through art and creativity.
The founder and director of the She Arts initiative, Neven Kenawy, said: "She Arts is an international artistic and cultural event that brings together women artists from different countries of the world, including Egypt, Switzerland, Portugal, France and Palestine, and includes arts such as music, dance performances, visual arts, workshops and popular cultural activities for each country."
"The establishment of this event in the first place is to provide an arena for female artists from all over the world to display their arts and exchange experience, as well as to inspire others and encourage them to work in the cultural field in general and in the field of arts in particular, to spread awareness and create an appropriate environment in order to promote art and culture," she added.
"Since ancient times until the present day, women have been an integral part of art and culture in many influential ways."
"Women have been creative and innovative and have contributed greatly to many artistic expressions, however many women and artists who target feminist issues around the world do not have sufficient support and resources to express themselves. They rely only on limited resources… and also do not know about each other," she continued.
"Through this event we seek to create a space for female artists to share their stories through the arts, spread knowledge and enhance the public perception of the women who strive to make art as their livelihood – while promoting the work of women artists and feminist arts projects, and providing an opportunity for women artists to collaborate, meet each other, promote their work, and express themselves," Kenawy said.
A large number of bands and artists will participate in the event, such as Nesma Mahgoub, Amy Sultan, Mariam Naoum, Nouran Abu Taleb, the "Fabrika" band led by Nevin Allouba and Mariam Saleh, the pianist Heba Soliman, percussionist Sabreen al-Hussamy and others.
Foreign participants include artist Angelica Richmont from France, Jasmina Huguenet from Switzerland, Susan Trafsus from Portugal, ​​and Bana from Palestine.
The celebration includes musical and dance performances, music workshops, contemporary dance and hip-hop workshops, as well as a music competition for emerging artists, with a variety of platforms for women to showcase their artistic creations.
Edited translation from Al-Masry Al-Youm