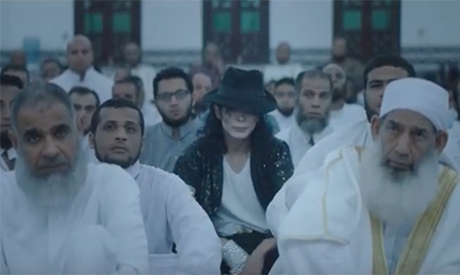 A Cairo prosecutor has summoned the lead actor of the recently-released Egyptian film "Sheikh Jackson," Ahmed El-Fishawy, for questioning over accusations of "contempt of religion".
The complaint was filed by a lawyer who accused El-Fishawy of portraying religious clerics as harboring extremist views, and that the film is trying to send a message that followers of "contemporary doctrines" are superior to traditional clerics.
The film, where El-Fishawawy plays a sheikh who has an identity crisis upon hearing of the death of his childhood idol Michael Jackson, was critically acclaimed after it first screened on the opening night of EL-Gouna Film Festival.
"Sheikh Jackson" is also nominated to represent Egypt in the "Foreign Films Section" at the Oscars 2018. If chosen by the US Academy of Motion Picture Arts and Sciences in January, it will be the first Egyptian film to make it to the final selection in the Oscars' foreign films category.
While the film has been well received internationally, reactions from the Egyptian audience have been mixed, as it touches upon, for some sections of Egyptian society, sensitive issues.
"This work defames Egypt – the country of Al-Azhar – as a whole," the complaint by the said lawyer concluded, alluding to a scene where Al-Fishawy was leading dawn prayers when Michael Jackson appears dancing inside the mosque.
Director Amr Salama has chosen not to comment on the allegations, according to Ahram Online.