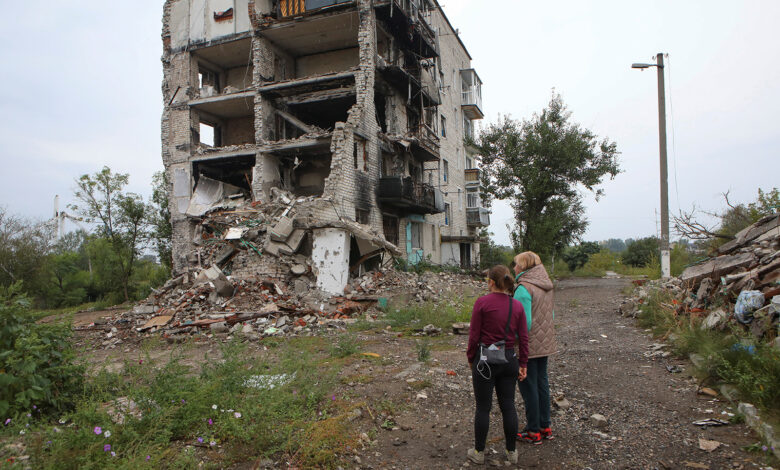 Much of Ukraine's Kharkiv region has been retaken by Ukrainian forces, but the military said liberated areas are now being heavily shelled by Russian artillery.
The Kharkiv regional civil military administration said Friday that "during the past day, the enemy massively shelled the recently liberated settlements of the Kharkiv region in the Kharkiv, Kupyansk, and Izium districts. Residential buildings were destroyed; there are injured."
The administration said 10 people were injured in the Kupiansk district, including two children. One more person was wounded in the Izium district, and one was injured in the Kharkiv district, it said.
Areas of Kharkiv near the Russian border also came under attack, it said, adding that there had been rocket attacks on the village of Zolochiv north of the city of Kharkiv.
Elsewhere, in Luhansk: The administration in the eastern Luhansk region said battles continue along the line of contact but there had been no further change in territory held by Ukraine. It said long-range artillery strikes by Ukrainian forces had inflicted heavy casualties on Russian units in the Perevalsk area, some 50 kilometers (31 miles) behind the front lines.
Donetsk: In Donetsk, regional authorities said Russian forces continued to shell settlements around Bakhmut, Avdiivka and Toretsk, killing five civilians. Despite a mandatory evacuation from the region, thousands of civilians have not left their homes.
Dnipropetrovsk: Further south, in the Dnipropetrovsk region, the cities of Kryvyi Rih and Nikopol have come under fire. Local authorities reported widespread damage in Nikopol from Russian rocket attacks. "The Russians aimed their missiles at critical infrastructure. There is severe destruction of hydraulic structures," Valentyn Reznichenko, head of Dnipropetrovsk regional military administration, said about Kryvyi Rih.
Earlier this week, missile attacks on water infrastructure caused flooding along the Inhulets river, which runs south from Kryvyi Rih.
Kherson: The regional military administration in the southern Kherson region implied there had been little further progress for Ukrainian forces there, saying "the situation in the region remains difficult."
It said Russian forces had tried to conduct an assault toward the town of Ivanivka but retreated with losses. It also said Ukrainian rocket and artillery units performed 140 fire missions.