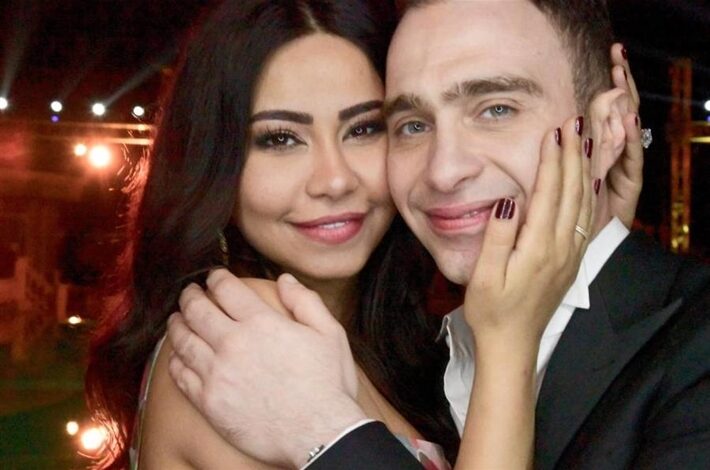 Sherine Abdel-Wahab has returned to Hossam Habib again, announcing that they were getting married.
The news was reported by "al-Hekaya" (The Story) talk show of Amr Adib on MBC Masr channel, which broadcast a picture of the signing the marriage contract between the couple.
Sherine apologized to Habib for everything she said against him, and made it clear that what happened was just a normal argument.
She said that Habib is a very good person, and that she had made a mistake when she came out to speak in public about her husband.
Sherine revealed that she has been undergoing psychological treatment since she gave birth to her two daughters, Hana and Maryam.
During a telephone interview with "al-Hekaya," she said "I still undergone psychiatric treatment since I gave birth to my daughter Hana, and Maryam, not recently… You are tired of me, but I will never let you down."
The actress continued, "I was taken by surprise by the idea of admitting me to a hospital in this way, and I thank my brother Mohamed for introducing me to this hospital."
Hossam Habib spoke about the history of their relationship, saying: "Our life was open, that created the problems. We now set rules, each one honors the other and remains proud of him."
He continued, "We agreed that we each focus on our life, and we agreed on each one of us makes the other happy, and we decided that our life is just for us."
Yasser Kantoush's statement
Sherine's Lawyer Yasser Kantoush published a statement on his official Facebook page saying: "After reviewing the report issued regarding the health condition of the artist." It seemed that Sherine Abdel Wahab was in good health according to a specialized medical committee of the National Council for Mental Health.
"The report stated that the artist's health condition was good and stable and did not require any further compulsory treatment inside the hospital."
The report also added something a little contradictory that she was psychologically stable, but she could not leave the hospital.
Therefore the scenario continued as follows :
"She was forced to sign papers stating she wanted to continue in the hospital, and this was contrary to the truth," Kantoush statement said.
"The hospital informed the Public Prosecution Office, that she was required to be released. This was in their report. The report added that Sherine was voluntarily present in the hospital and that [the hospital] does not fall under any law which can keep her there without her consent " he wrote.
"Thus the hospital is detaining a citizen unjustly, and therefore all legal measures will be taken against it for violating Article 10 of the Mental Health Law which stipulates the voluntary admission of a patient, and allows them to make phone calls, meet whomever they want, and leave the hospital at any time," Kantoush said.
According to Kantoush, Sherine asked him in the recorded call to help her leave the hospital, after her health condition stabilized during the past days.
He stressed that the circulating audio recording of her was published upon her request to reassure the public about her condition.