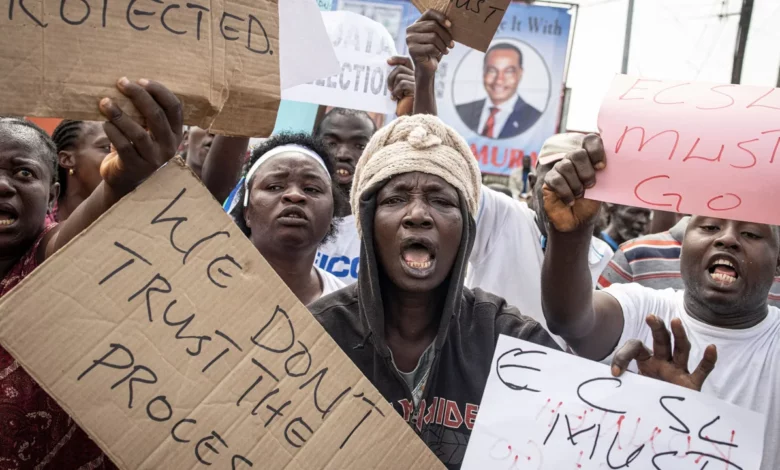 European election observers in Sierra Leone said there were "statistical inconsistencies" in the presidential results published by the electoral commission, which declared President Julius Maada Bio the winner of Saturday's vote.
The European Union Election Observation Mission called on the commission on Wednesday to promptly publish disaggregated results data per polling station to allow for public scrutiny of the results, without which it said transparency was compromised.
Sierra Leone's chief electoral commissioner, Mohamed Kenewui Konneh, told Reuters the disaggregated results would be uploaded to the website "in due course" but that it would take time.
Bio was re-elected to a second term with 56 percent of the vote, narrowly avoiding a run-off against main rival Samura Kamara, who had about 41 percent, according to the official tally. Kamara has rejected the outcome, saying the results were not credible.
The EU observation mission said in a statement that there were inconsistencies between the first and second batch of presidential results, including "notable discrepancies in the number of average valid votes per polling state".
It said the results also showed a strikingly low number of invalid ballots nationwide and a very high turnout exceeding 95 percent in at least three districts.
A spokesperson for the electoral commission declined to comment on alleged irregularities, saying he had not seen the mission's statement.
The United States, Britain, Ireland, Germany, France and the EU said on Wednesday they shared the concerns about lack of transparency in the tabulation process, and that significant logistical problems had hampered voting in certain areas.
"We urge everyone to exercise restraint, respect the rule of law, and engage in peaceful dialogue to resolve disputes," they said in a joint statement.