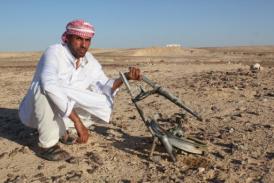 A sinai tribal leader has said that the government's plan to create a buffer zone on its borders with Gaza was impossible, nearly two weeks after the government said it will evacuate the border areas in an effort to curb terrorist attacks against security forces.
Sheikh Eissa Al-Kharafin said during a press conference at the Presidency on Monday that the evacuation of the five-kilometer area inside Rafah was "impossible" since it is inhabited by nearly 50,000 people, suggesting that it may be better for citizens to be gathered at a new city rather than distributed over several spots.
Sisi has ordered the presidency's recently-formed Community Development Council to sit with Rafah tribal leaders to address their demands concerning a range of local issues.
Kharafin said Sisi is scheduled to meet Sinai tribes once again on Sunday.
"Compensation disbursed for the evacuated citizens needs to be increased given the surging prices for building materials," Kharafin said.
Presidency spokesperson Alaa Youssef said results of the council's meetings would be submitted to the president, who, he said, gives attention to the conditions of the people in Sinai.
Egypt announced intentions to create a buffer zone following a suicide attack late October that killed 31 security officers, the latest in a series of bloody operations that targeted forces in the Sinai Peninsula since the ouster of former president Mohamed Morsy in 2013.
Edited translation from Al-Masry Al-Youm