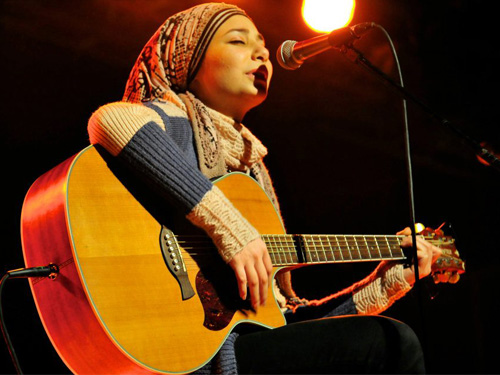 Sixteen Egyptian women took to El Sawy Culture Wheel's River Hall stage in front of a packed audience on Saturday night to show off their vocal talents in the "Ghany Ya Masreya" (Sing Egyptian Women) competition. The distinctively diverse singers — the youngest was a fourteen year old, while two contenders have been singing professionally for over 20 years — were filtered down from 40 contestants through a Facebook voting application.
Sponsored by the US Embassy, this competition offers one lucky winner a four-day trip to New York City and a recording session at Manhattan Center Recording Studios. This is the opportunity of a lifetime for many contestants. There's also talk of a major international singer like Alicia Keys coming to Egypt to mentor the finalists. For now, voting will continue until next Saturday, 10 March, when the sixteen will be cut down to eight singers.
Taking to the stage, contestants spoke about how this competition had empowered and inspired them as Egyptian women. In the lead up to this concert, the sixteen finalists attended several workshops led by industry experts on marketing themselves, stage presence, breathing and singing techniques.
"I joined this competition because I wanted to get my voice out there and encourage other girls to do the same," said 18-year-old Amina Waly before launching into an acoustic version of The Cranberries' "Zombie."
"This is more than a singing competition," said 32-year-old Tamara Yousry. "This is a step toward empowerment of women."
Nadeen Fawzy, one of two veiled finalists, said, "I'd like to relay the message that I am not restricted by my veil. I believe my voice is a talent given to me by God."
Fawzy's sweet rendition of her original "You Will Be Fine" may not have been the most powerful showcase of vocals, but it was uplifting; especially since she was one of only three contestants to sing original material, alongside Mariam Ali and Yousry.
A song choice can make or break a singer, and most of the finalists opted for ballad covers to show off their vocal range, tackling technically difficult songs like Patti Labelle's "There's a Winner in You" and Whitney Houston's "Run to You." The results were hit-and-miss.
While some covers were spot-on, perfectly mimicking the originals — Sandra Hanna's rendition of Adele's "Someone Like You" and Nourhanne al-Gawad's "Foolish Games" were eerily perfect imitations — none of the singers tried to give their own distinctive flavor to their cover versions.
Several contestants played it safe and didn't surprise the audience. But Malak al-Husseiny made a very brave choice by singing "House of the Rising Sun," a song traditionally suited for male vocals. Launching into the song without her backing guitarist, Husseiny's powerful vocals got her off to a great start that was sadly let down by the fact that she was singing in the wrong key and the guitarist couldn't match her.
Interestingly, it was Dina El Wedidi's rendition of Sayed Darwish's "Aho Da Elly Sar" ("That's What Has Become") that brought the house down, with audience members clapping and singing along. Wedidi's song choice was strategically clever: the only finalist to sing in Arabic and a much-loved song that drew on the audience's nationalist sentiment, her song resonated with the crowd in the midst of too many US ballad covers.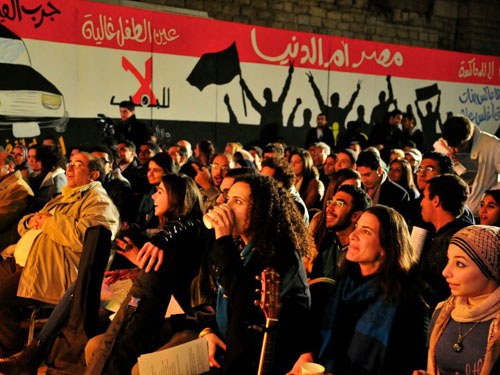 Ultimately, given the nature of the competition — where you can vote once a day on the Facebook App — it's doubtful that the most talented or technically capable singers will be chosen for the Top Eight, it's those with the highest number of Facebook votes who will get through.
Speaking after the competition, one finalist noted how another finalist's friend had created three new Facebook accounts to vote for her every day. Others have been circulating their link on BBMs, Twitter and Facebook groups, encouraging friends to vote repeatedly. One contestant, who is a singer in her church's choir, had over one hundred votes just an hour after the concert ended, due to her church group's support, as a fellow contestant snidely remarked.
Ali admitted that she didn't have the same Facebook clout as some of her peers, but she's nonetheless grateful for the experience.
"Even if I don't make it through to the finals, I'm very glad to have been part of this," she said. "I've learned so much as a singer, and now seven other girls and I are thinking of starting our own thing; singing together in a concert, and doing collaborations, medleys and a choir."
While organizers are still in talks about having a concert for the Top 4 finalists, the Top 2 finalists are set to perform at the Fairmont Nile City on 5 April. For more information and videos of the top 16 finalists, check out this link.