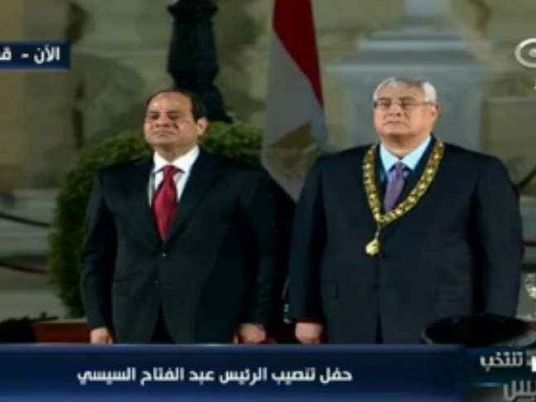 Spokesperson for the presidency Ehab Badawy said on Tuesday that President Abdel Fattah al-Sisi has accepted the resignation of a number of former advisers to President Adly Mansour.
The advisters include the presidential adviser for security affairs Mohamed Shehata, strategic affairs adviser al-Mostafa Salem Hegazy, constitutional affairs adviser Ali Awad, media adviser Ahmed al-Meslemany, women's affairs adviser Sukina Fouad and scientific affairs adviser Essam Haggy.
The presidential advisers referred to were appointed according to a presidential decree on 6 July 2013, except for former adviser to the president for scientific affairs, who was appointed on 4 September 2013, Badawy said.
Badawy thanked the former advisers for their efforts during the transitional phase.
Edited translation from Al-Masry Al-Youm