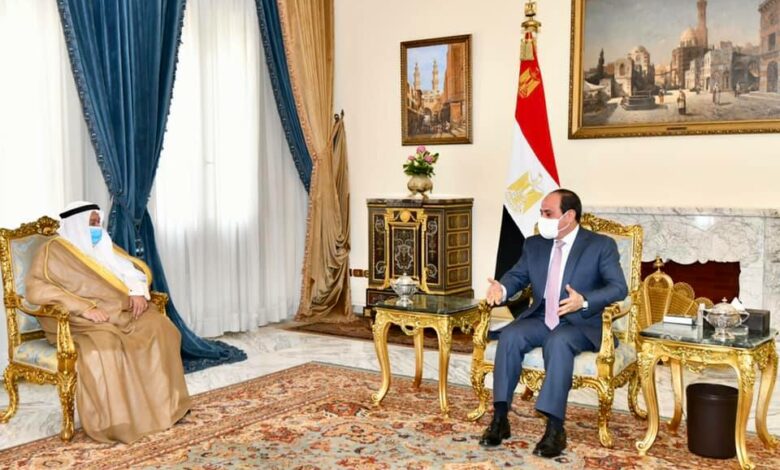 Egyptian President Abdel Fattah al-Sisi affirmed his nation's full support for the security and stability of Kuwait in the face of regional challenges, as part of the fixed Egyptian policy in maintaining Gulf security.
This came during Sisi's reception of Ambassador of Kuwait Mohamed Saleh al-Thuwaikh, on the occasion of the end of his term as ambassador of his country in Cairo.
Egypt's presidential spokesperson Bassam Rady said that President Sisi expressed appreciation for the tireless efforts of Ambassador Thuwaikh in supporting and strengthening Egyptian-Kuwaiti relations.
Rady added that the meeting witnessed a review of the overall developments in regional situations of common interest, as well as the most prominent topics of bilateral relations especially regarding the economy and trade, alongside strengthening cooperation in education in light of the modern disciplines that were included in the series of new universities Egypt has established.
The meeting also discussed increasing Kuwaiti investments in Egypt in various fields, in light of various investment opportunities, especially in the field of agriculture through major national projects for land reclamation across Egypt.
Sisi affirmed his appreciation for the wise role of the Kuwaiti Emir in leading Kuwait towards progress and prosperity, his keenness to develop cooperation and strengthen relations with Egypt, and his generous sponsorship of the Egyptian community in Kuwait.
The Kuwaiti ambassador also expressed his pride in his tenure in Cairo, and in the advanced stages of bilateral relations between Egypt and Kuwait in the framework of the strong ties.
And he thanked the Egyptian officials for their cooperation and support, as well as to the Egyptian people for their warm welcome and hospitality.
Thuwaikh affirmed the keenness of the Kuwaiti leadership and government to enhance joint cooperation in a way that meets the aspirations and aspirations of the two peoples and achieve their mutual interests in progress, prosperity and development, as well as strengthening the bonds of joint Arab solidarity in facing various issues and challenges.