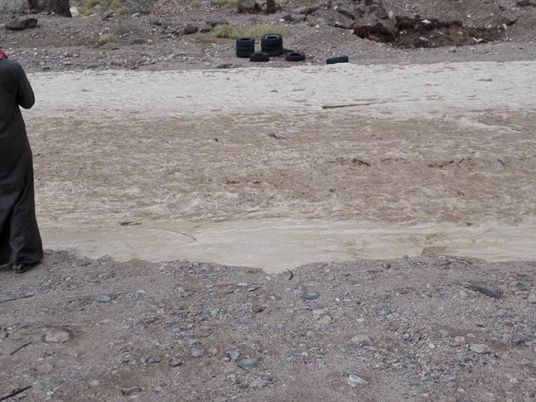 President Abdel Fattah al-Sisi has ordered the allocation of LE50 million to compensate those harmed by flooding in recent days, in addition to another LE50 million to improve the efficiency of basic infrastructure in places hit by flooding, Prime Minister Sherif Ismail announced on Saturday.
Ismail revealed the funding plan at a Cabinet meeting attended by officials of the Red Sea Governorate, along with ministers of local development, transportation and irrigation.
Ismail started the meeting by offering condolences to the families of those killed in flooding in the past few days, while wishing a speedy recovery to those injured as heavy rain swept across four governorates on Thursday and Friday.
The prime minister then listened to detailed explanations on the situation, as well as measures taken.
He said a compensation committee should make an assessment of damage caused and report back within a week, before arranging for compensation to be distributed to those affected by the floods.
Ismail instructed the irrigation minister to consult drainage experts and university professors on ways to reduce the impact of flooding due to rain.
Among the details shared at the meeting was the damage done to the city of Ras Ghareb on Thursday, which received an unprecedented 120 million cubic meters of rainfall.
At least 18 people were killed and dozens more injured in flooding incidents in the past two days, with several villages swamped and buildings collapsing. Roads were also blocked in some places and power supplies cut.
Edited translation from MENA