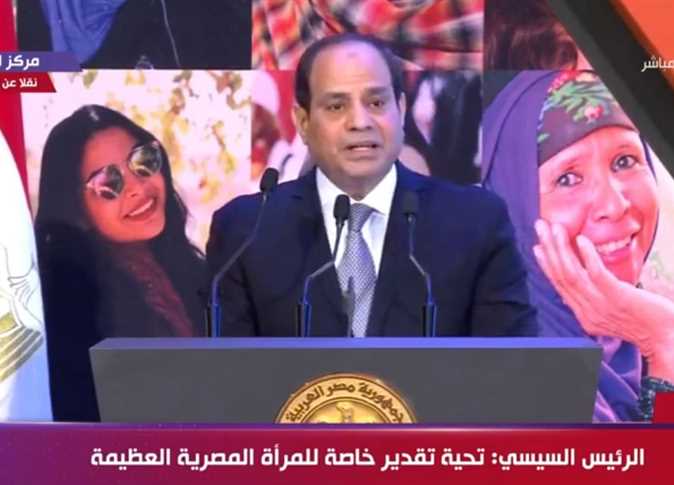 President Abdel Fattah al-Sisi announced several decisions and directives in favor of state employees, pensioners and women in his speech Saturday on Egyptian Women's Day.
The president announced that on June 30 minimum wage for all employees of the state administrative system, who are both addressed and not addressed by the civil service law, will be raised from LE1200 to LE2000.
He stated that the annual periodic bonus will be given at seven percent of the minimum wage at a minimum of LE75 for those addressed by the law, and at 10 percent of the minimum wage at a minimum of LE75 as well for employees not addressed by the law.
The president added that LE150 will be disbursed to mitigate the effects of inflation on employees.
The minimum wage for state employees of the sixth grade will be LE2000, third grade will be LE2600, and the excellent grade LE7000, Sisi said, adding that wide promotions as well will take place until June 30.
The president also announced that pensioners will be given a 15 percent increase of a minimum of LE150, with the minimum pension being raised to LE900. The debts of the Treasury and the National Investment Bank for pension funds will be paid gradually, he added. 
The president pointed out that this planned promotion of employees will cost the state LE1.5 billion, while the cost of salary increases will be LE30.5 billion, raising the budget item to LE300.5 billion.
Sisi praised the patience of citizens in the success of the economic reform program, saying: "You have made difficult days pass, without a single protest."
He urged the government to study ways to achieve greater participation of women in the labor market and to provide a suitable environment for them to encourage their participation in non-traditional sectors where their ambitions can be realized.
In his speech, Sisi added he instructed the government to develop an appropriate legislation to effectively protect women from all forms of emotional and physical violence, including marriage before the legal age, the deprivation of education, and lacking financial support to mothers and children in cases of divorce.
Sisi further directed the government to study the phenomenon of women who are imprisoned over debts and formulate legislation and policies to stop this from happening. He also instructed drafting a family awareness project to prepare young people for marriage responsibilities, along with studying the promulgation of a new personal status law.
The president honored 42 women during the ceremony, including 32 mothers, and 10 women with achievements in different fields.
Edited translation from Al-Masry Al-Youm