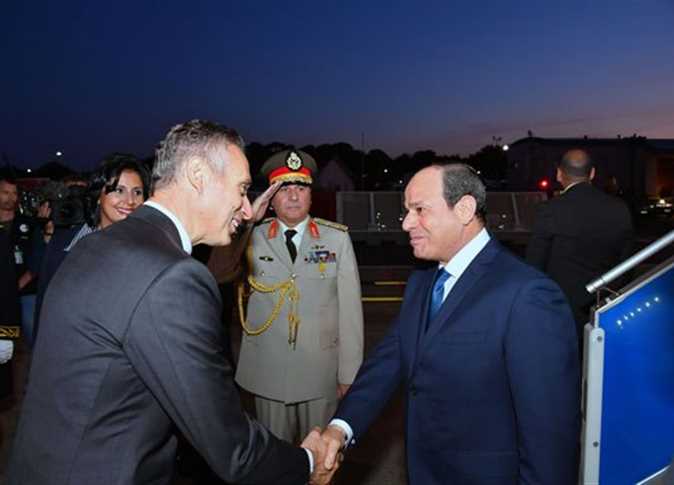 Egyptian President Abdel Fattah al-Sisi arrived in the French city of Biarritz on Saturday morning to participate in the G7 summit, at the invitation of French President Emmanuel Macron.
The spokesperson for the Egyptian Presidency Bassam Rady said that this year's G7 summit will address various issues including international security, combating terrorism and extremism and confronting the use of the Internet for terrorist purposes.
He added that the summit will also deal with ways to tackle human trafficking and illegal migration, combating inequality and supporting women's empowerment especially in Africa, as well as environmental, climate and biodiversity issues, and developments in the global economic and financial system.
Rady said that Sisi will address the G7 and Africa Partnership Summit as Chairperson of the African Union.
He added that Sisi's speech will review Africa's vision on ways to achieve peace and sustainable development, and consolidate the foundations of a partnership between Africa and the G7 countries within common and mutual interests.
On the sidelines of the summit, President Sisi will also meet with some leaders of the participating countries to discuss bilateral relations, and regional and international developments of common interest.
Egypt's State Information Service (SIS) said that inviting Sisi to the Biarritz summit highlights Egypt's role and political and economic achievements, and also showcases that combating terrorism, achieving global equality and renewing African partnership are high on the agenda.
This marks the fourth visit of President Sisi to France since he took office in 2014: the first was in November 2014, the second in November 2015, and the third was in October 2017, where he was received by French President Emmanuel Macron.
Relations between Egypt and France have grown and witnessed a rapprochement of positions since Sisi took office.
France is one of the most important sources of armament to the Egyptian Armed Forces, starting with the deals of Mirage aircraft in the 70s up to major arms deals currently taking place.
Economic cooperation is one of the most important aspects of the relations between the two countries.
French investments in Egypt exceed four billion euros in agro-industries, information technology, construction, renewable energy, transport and communications, water purification and desalination, infrastructure projects and tourism.
Trade between the two countries has witnessed a remarkable development, now approaching about US $3 billion of which nearly $1 billion are Egyptian exports to France.
Edited translation from Al-Masry Al-Youm