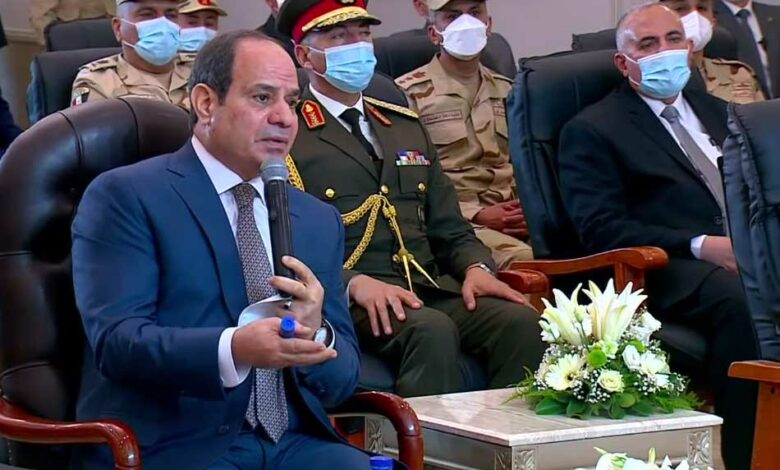 Egyptian President Abdel Fattah al-Sisi stressed on Saturday that the government is fully responsible for controlling prices.
"We, as a state responsible for keeping the prices of products under control as much as possible until the end of this year," he said.
The president also ordered to study the establishment of markets within the Cairo and Giza range with the aim of controlling prices.
Sisi's statements came to the opening of the "Future of Egypt" project for agricultural production, which is one of the most important major national projects launched by the government.
The event was attended by Prime Minister Mostafa Madbouly, Minister of Defense and Military Production Mohamed Zaki, and some ministers and senior statesmen.
The project is located on the Cairo-Dabaa Road, and aims to maximize production opportunities, provide high quality agricultural products at reasonable prices for citizens, bridge the gap between production and import, and achieve food security and self-sufficiency in strategic commodities.
The President directed the completion of the phases of Future of Egypt Project for Agricultural Production before the end of 2023.
"Every measure that the state did not pay attention to, not during the past year, ten, or twenty years, but over the past 40 or 50 years, we are currently paying attention for, and therefore there is a great debate, dialogue and movement, and we are happy with that," he said.
Sisi also asked the Minister of Agriculture, al-Sayyed al-Qusair, to double the animal production of meat by replacing livestock with low or medium productivity with other livestock that are more productive.
The president stressed the state's ability to provide the necessary seeds for wheat cultivation, in a way that would achieve the greatest benefit for farmers.