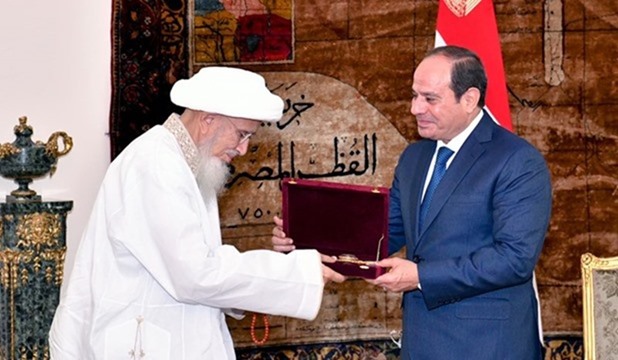 President Abdel Fattah al-Sisi has bestowed the Nile Sash on Sultan of the Indian Bohra community Mufaddal Saifuddin in recognition of his continued efforts in Egypt at the cultural, charitable and social levels.
This came as Sisi received on Monday Sultan Mufaddal Saifuddin, who was accompanied by his sons Prince Jaafar Al-Sadiq, Prince Taha Najmuddin, and Prince Husain Burhanuddin. The meeting was attended by Director of the General Intelligence Service Abbas Kamel.
Welcoming Sultan Mufaddal Saifuddin to Egypt, President Sisi lauded historical relations between Egypt and the Bohra community, commending the role played by the sultan and the Bohra community in restoring a number of historical mosques in Egypt.
Sisi also pointed out to the charitable activities carried out in Egypt by Sultan Mufaddal Saifuddin and the Bohra community in a way that integrates with the Egyptian state's efforts to achieve development as well as its keenness to develop Historic Cairo and show its cultural character, Presidential Spokesman Ahmed Fahmy said.
Meanwhile, the Bohra sultan expressed his appreciation for Egypt noting that it witnesses promoting citizenship under Sisi's leadership on the basis of religious tolerance and peaceful coexistence; in a way that guarantees for all people a stable climate of social peace.