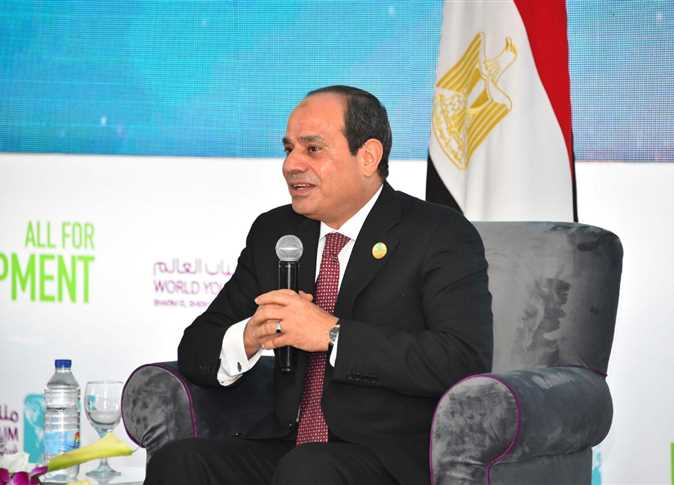 Egyptian President Abdel Fattah al-Sisi responded to criticism of his country regarding human rights issues, saying the criticism was "very harsh" as Egypt "is keen on human rights as part of its beliefs and ideas."
Sisi's statement came in response to a representative of the Union for the Mediterranean who called for "rapid corrective measures" in the country, saying: "In Egypt, despite the limited development that appeared in the adoption of the human rights strategy (September), we are concerned about… arbitrary arrests, enforced disappearances, repression of civil society, and violations of prisoners."
During the "Simulation Model of the International Human Rights Council at the United Nations" session at the World Youth Forum currently held in Sharm el-Sheikh, Sisi stressed on an integrated and comprehensive approach on addressing human rights in Egypt, referring to the need to take into account challenges that Egypt is facing.
He also stressed the need to put issues such as providing job opportunities, health care and appropriate education as fundamental human rights issues that represent challenges to the Egyptian government.
"What if the state did not provide an enhancement to the health process commensurate with the Egyptian citizen's right to health, would it be then negligent in citizens' right to quality health treatment? The same applies to quality education. Would this be a failure in human rights?," he asked.

"All these matters must be put into place when addressing the human rights situation in Egypt being challenges facing the Egyptian state, which requires that the approach be integrated and comprehensive."
He called on youth everywhere to pay attention to what is being proposed regarding human rights issues so that they listen, see and then decide with their minds, referring to  countries which have been destabilized and their human rights violated.
The president thanked everyone who participated in the session, even those who criticized Egypt's human rights situation.
"I felt that the speech was very harsh, but believe me it's not the real [situation] in Egypt at all, and therefore this is a form of abuse with intent, or unintentionally, for the Egyptian state."