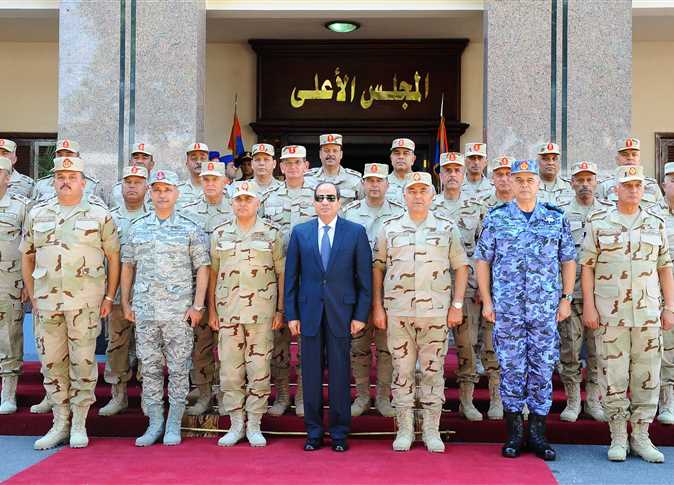 Egyptian President Abdel Fattah al-Sisi, also lead commander of the Armed Forces, reviewed the security plans and measures implemented by his military to protect the country from various threats, especially in North Sinai.
On Saturday, Sisi presided over the meeting of the Supreme Council of the Armed Forces (SCAF), attended by Defense Minister General Sedki Sobhi, Commander-in-Chief of the Armed Forces, General Mahmoud Hijazi, Chief of Staff of the Armed Forces, commanders of the main corps, and other SCAF members.
the president was briefed on the measures being taken by the armed forces to rid Sinai of terrorist cells and establish security and stability. During the meeting, the president praised the successes of the armed forces in thwarting terrorist attacks targeting several military sites and acknowledged the sacrifices they have made in the war against terrorism.
Sisi directed the commanders to remain on guard in the face of terrorist threats facing the country. During the meeting, he complemented the military's strategy to develop and modernize the armed forces, apparent during the inauguration of the Mohamed Naguib military base.
He also stated that continued developments, such as the latest technology in the military field, will aid and address threats within the country.
In related news, Sisi met with Interior Minister Magdi Abdel Ghaffar, Saturday. He commanded that efforts to achieve greater security and safety for the citizens continue and to strengthen the role of the police forces.
Sisi recognized the success of the security services in confronting extremism, while the minister presented a report on the latest developments on the security situation.
Edited Translation from Al-Masry Al-Youm