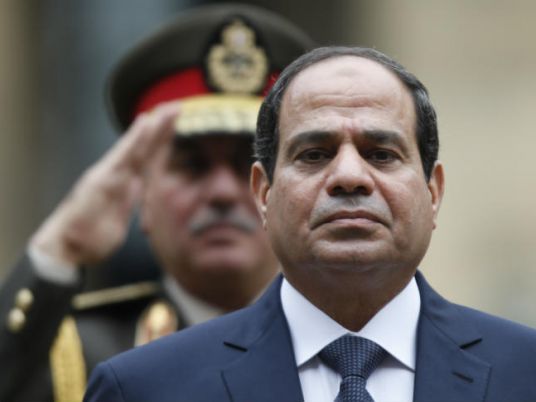 Egypt President Abdel Fattah al-Sisi said Tuesday that the cost of fighting terrorism is "very high," but that Egyptians have chosen "the difficult path".
In a phone-in with Amr Adib's show Kol Youm (Everyday) on a privately owned satellite channel, Sisi said "I would like to remind you Egyptians and myself of July 24 (2013) I asked for a mandate from the people to counter terrorism and would-be violence, and people took to the streets. I was telling the Egyptians that you will see a huge amount of challenges, not just over one day, or a month or a year, but over years."
"In the challenge, there will be a very high cost, the cost of our sons; then the financial cost, which is a huge cost on the Egyptian state for 3.5 half years (now), and the size of the challenge that Egypt is still facing (terrorism) alone," he continued.
"The difference between normal media coverage and the estimates of the various state bodies of the size of the challenge was great," he said.
Sisi went on that "the size of the challenge was huge because you chose the difficult path. And you know that a very big size of losses is a consequence for this choice, this is what we have seen for three and a half years and we continue to see this.. And that is because we chose a way opposite to what had been planned for the Middle East region."
"Egypt is in a very real war against terrorism and will not back down, and if it was not for what Egypt has done and continues to do, terrorism could have flared up even more in the region," Sisi said.
He added that the armed forces are trying to combat terrorism without posing harm to innocent citizens who live in Sinai, pointing out that Egypt has 41 battalions in the Sinai, which means about 25 thousand troops, to which we allocated a very large amount of resources.
Sisi added that during the past three months, more than 1000 tons of explosives have been confiscated in Sinai, as well as millions of dollars that belong to terrorist.
He said that "the current Egyptian regime did not come to establish an ongoing ruling system, and this will never happen."
Eight policemen, one citizen and five armed persons were killed in two separate attacks against security checkpoints in northern Sinai on Monday.