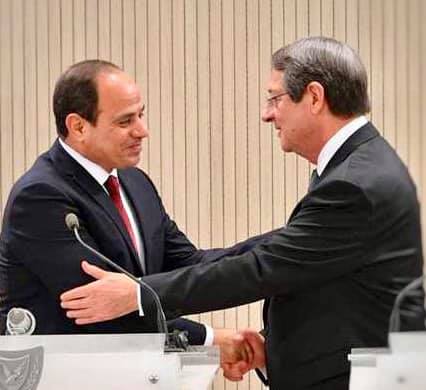 Egyptian President Abdel Fattah al-Sisi met on Friday with Cypriot President Nicos Anastasiades, during his participation in the European-African Summit in the Belgian capital, Brussels.
The Egyptian presidential spokesperson Bassam Rady said that President Sisi praised the continuous development in Egyptian-Cypriot relations and the steady progress witnessed by bilateral cooperation between the two friendly countries, in addition to the Cypriot positions in support of Egypt in regional and international forums and organizations.
Sisi stressed Egypt's desire to continue cooperation and intensifying consultations on issues of common interest, whether bilaterally or through the tripartite cooperation mechanism between Egypt, Cyprus and Greece.
The Cypriot president expressed his pride in the historical ties between Egypt and Cyprus, and affirmed his nation's desire to expand all cooperation ties between both countries as well as strengthening the tripartite cooperation mechanism with Greece.
He noted the role played by Egypt as a pillar of stability in the Middle East, in addition to its efforts in combating terrorism and illegal immigration.
Rady added that the meeting witnessed discussions on ways to enhance the strong historical relations between the two countries.
The two presidents also stressed the need to move forward with the implementation of the joint projects agreed upon within the tripartite cooperation mechanism.