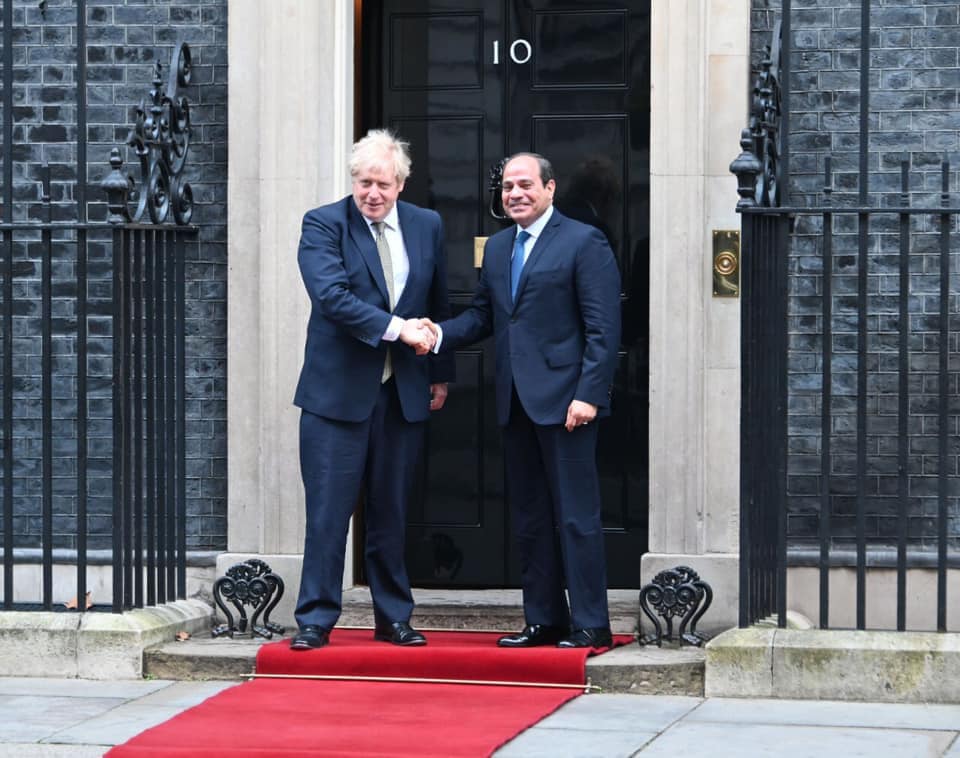 Egyptian President Abdel Fattah al-Sisi on Tuesday met with British Prime Minister Boris Johnson at the Prime Minister's residence in London.
The Egyptian presidential spokesperson Bassam Rady said that the meeting saw closed bilateral discussions, followed by an expanded session between the delegations from the two countries.
The meeting discussed coordinating efforts with Egypt in combating terrorism, illegal immigration, and the latest developments in some regional and international issues of common concern – foremost of which is the crisis in Libya.
Sisi and Johnson agreed on the concerted joint efforts between Egypt and Britain to settle the situation in Libya in a comprehensive and integrated manner that addresses all aspects of the crisis, Rady said.
Sisi hailed the remarkable momentum witnessed in bilateral relations between the two countries in all fields.
He stressed Egypt's desire to maximize bilateral cooperation during the coming period, and also enhance political and security coordination and share views on various topics of common concern.
Johnson stressed on his country's keenness to improve relations with Egypt, especially in the economic and trade fields.
The British leader pointed out that his country is counting on the central and active role of Egypt as a pillar for stability in the Middle East and Africa.
Johnson praised Sisi's strategic vision for development, which has achieved clear and tangible results especially within the economic and social fields.
During his visit to London, Sisi also met Prince William, Duke of Cambridge, at the Buckingham Palace royal residence.
Rady said that the president praised the Egyptian-British cooperation relations and their advanced level reached at various levels during the recent period, affirming Egypt's aspiration to strengthen it further especially in tourism and education.
For his part, Prince William praised the steps taken to reform the Egyptian economy and the major national projects underway. Prince William also stressed Britain's keenness to support Egypt's development efforts across all fields.
Edited translation from Al-Masry Al-Youm