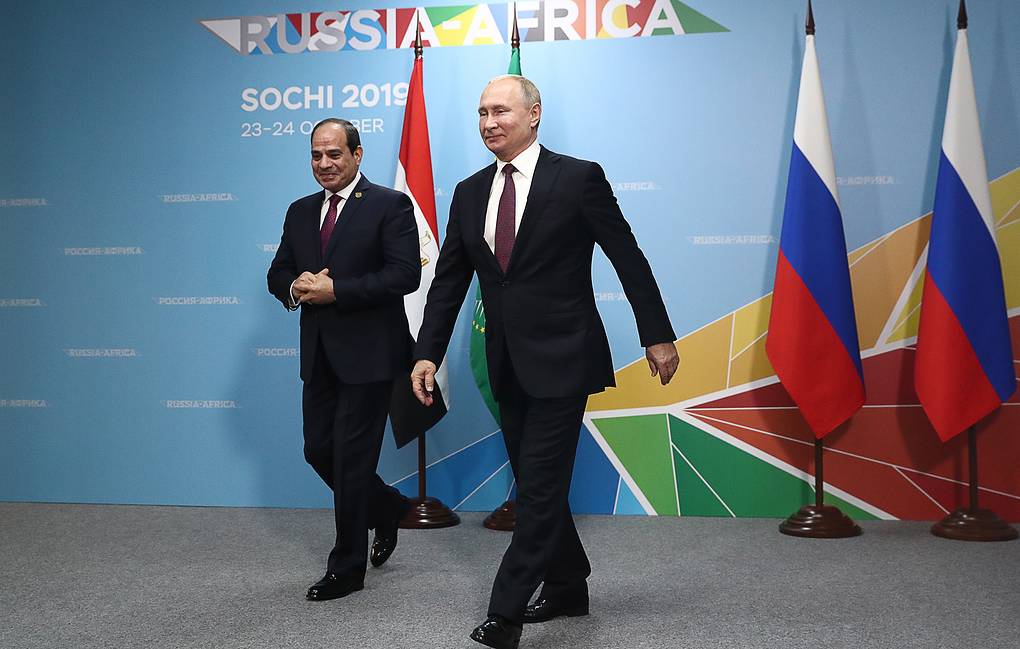 Egypt's President Abdel Fattah al-Sisi met on Wednesday with the Russian President Vladimir Putin during the two-day Russia-Africa Summit 2019 in Sochi. The two presidents met to discuss bilateral cooperation, efforts to resume Russian flights into Egypt, and the Dabaa nuclear power plant.
Sisi also met Chairperson of the African Union Commission Moussa Faki to discuss developments in several African crises, such as the Libyan crisis. The talks focused on reaching political settlements.
During a meeting with President of South Sudan Salva Kiir Mayardit, Sisi asserted that Egypt would continue supporting the government and people of South Sudan and enhancing efforts toward the achievement of a peaceful political settlement in Juba that implements the terms of the peace agreement.
This year's Russia-Africa summit is the first of its kind. It is focusing on three main themes: the development of economic relations, the establishment of joint projects, and cooperation in humanitarian and social fields between Russia and African countries. 
The agenda for the summit includes talks on the prospect of Russian-African cooperation in the fields of investment, industry and trade, housing, science and technology, education, media, infrastructure, nuclear technology, Africa's economic independence, joint cooperation in the diamond industry, business environment, digital transformation, mineral resources, agriculture, health systems, and the contribution of Russian and African youth to sustainable development.
Russian flights to Egypt were suspended following the downing of a Russian aircraft in Sinai on its way from Sharm El-Sheikh to St. Petersburg on October 31, 2015. The incident claimed the lives of all 224 passengers and crew-members on-board. Russia's Federal Security Service (FSB) later designated the incident as a terrorist attack.
In December 2018, Russian President Vladimir Putin and Egyptian President Abdel-Fattah Al-Sisi signed a contract to begin work on El Dabaa Nuclear Power Plant. Construction is expected to provisionally start in 2020, according to Alexei Likhachev, Chief Executive Officer of Russia's state nuclear corporation Rosatom.
The plant is expected to be fully built by 2022.
Edited translation from Al-Masry Al-Youm