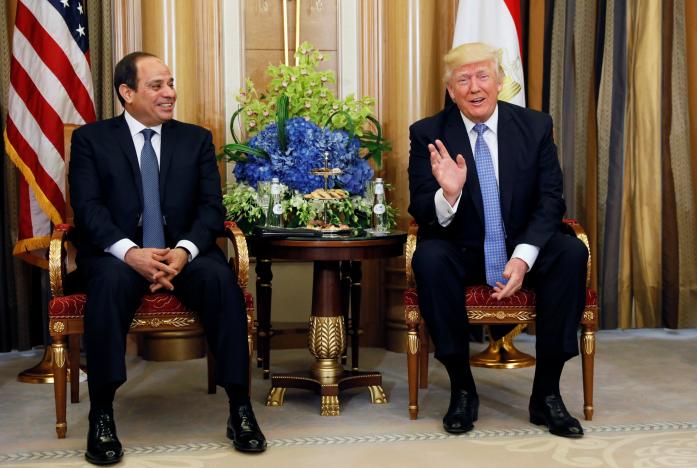 President Abdel Fattah al-Sisi on Monday continued to hold meetings with leaders of the Group of Seven (G7) countries, on the sidelines of the G7 Summit hosted by France.
Sisi met with his US and French counterparts and the Prime Minister of the UK.
Sisi agreed with US President Donald Trump on the importance of finding political solutions to the Libyan and Syrian crises, and discussed the developments of regional and international issues of common concern such as the Palestinian issue, affirming Egypt's support at finding a just and comprehensive solution to the Palestinian issue based on international legitimacy.
Trump expressed his country's full support for Egypt's efforts in combating terrorism, while Sisi stressed the importance of concerted efforts by the international community to undermine this threat and prevent any assistance reaching terrorist organizations.
Sisi also met with British Prime Minister Boris Johnson. The two looked forward to effective steps to developing bilateral relations in the coming period.
Sisi further met with his French counterpart Emmanuel Macron, and agreed on seeking a settlement to the situation in Libya, which would contribute to the elimination of terrorism.
Macron said the discussions at the G7 summit were fruitful on many issues, pointing out that the US will host the summit next year.
During his meeting with Trump in Paris on Sunday, Macron said he backed a summit between Trump and Iranian President Hassan Rouhani to discuss resolving the crisis with Iran and stop escalation, calling on Iran to respect its nuclear obligations.
Trump demanded that Iran be prevented from acquiring nuclear power, because, according to him, it is the top sponsor of terrorism.
Edited translation from Al-Masry Al-Youm