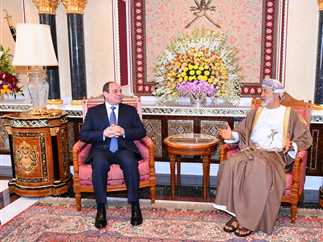 President Abdel Fattah al-Sisi met on Tuesday in Muscat with Deputy Prime Minister of Oman Fahd bin Mahmoud Al Said.
Sisi thanked the Omani official for the warm reception and expressed his appreciation for the close and historical relations that unite the two brotherly countries at the official and popular levels.
The relationship is also extended to social and cultural intertwining, stressing Egypt's aspiration to develop cooperation, official spokesperson for the Presidency, Bassam Rady, said.
Said welcomed Sisi as a dear guest, stressing the deep ties that unite the two brotherly countries, and his country's keenness to raise cooperation with Egypt to the level of strategic partnership.
This is to maintain regional security and stability and the restoration of balance to the region, in light of Egypt's pivotal role regionally and internationally.
Said expressed his country's aspiration to benefit from the successful Egyptian experience in implementing development projects and comprehensive economic reforms, which contributed to the steadfastness of the Egyptian economy against various international and regional challenges.
The meeting witnessed a review of ways to advance bilateral relations in many fields.
This was part of the Joint Business Council and the Egyptian-Omani Joint Committee, which was held in Muscat in January 2022, in addition to consultations on the most prominent regional issues of mutual interest.
The officials of the two countries agreed to intensify coordination and follow-up between the two sides in this connection in the coming period.