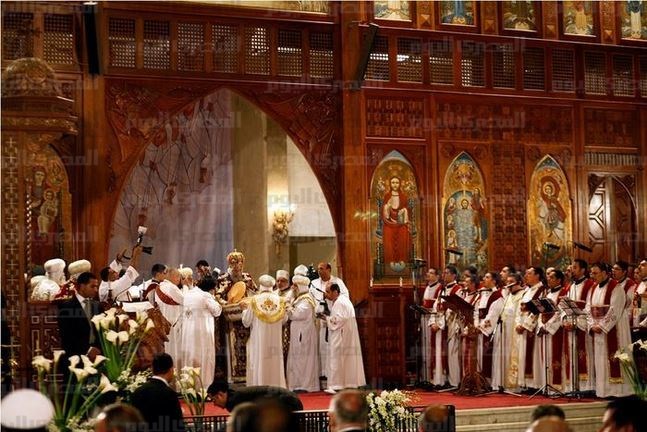 Egypt's Coptic Orthodox Church said Sunday that president Abdel Fattah al-Sisi would lead an official funeral for victims of Saint Mark's Coptic Orthodox Cathedral on Monday.
The funeral is organized by the army at the Unknown Soldier Memorial in Nasr City, with the participation of Pope Tawadros II, head of the Coptic Orthodox Church.
"Funeral prayers rites will be led by Pope Tawadros at half past ten in the morning at Saint Mary Church in Nasr City. Archbishops, bishops and priests participating in the prayers will arrive at the church using the buses of the armed forces, which will organize the funeral," the church said in a statement.
"Bodies of victims will arrive the Saint Mary Church in ambulances accompanied by representatives of their families," the statement said, adding that attendance at the funeral prayers will be limited to families of the victims.
The church said that the media coverage would also be limited to the state TV, which will broadcast live.
An explosion hit a church adjacent to Saint Mark's Coptic Orthodox Cathedral, the seat of Pope Tawadros II head of the Coptic Orthodox Church, on Sunday mass, killing 25 people mostly women and children.
No claim of responsibility has been announced, however terrorist groups flourishing since the ouster of former Muslim Brotherhood President Mohamed Morsi is a main suspect for security organizations.
Interior Minister Magdy Abdel Ghaffar made a telephone call to Tawadros II on Sunday, assuring him that police will take revenge for those victims.
"I made all measures and arrangements to arrest terrorists behind this sinful accident.. perpetrators will not get away with their murder.. police will take them to court as soon as possible," the minister said.
Churches usually witness tightened security measures at this time of the year, with the nearing of Christmas celebrations. Observers blame security measure for the failure to notice the explosive device that led to the bombings.