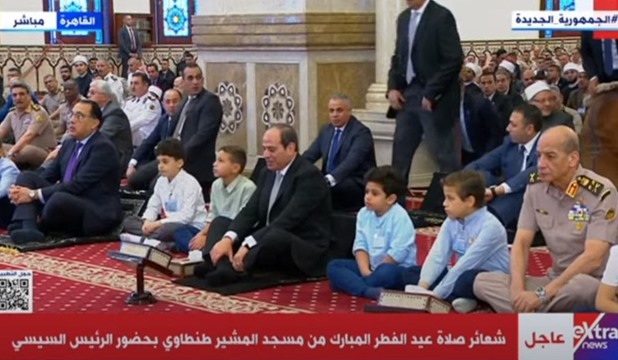 President Abdel Fattah El Sisi performed the Eidul Fitr prayers at the Mosheer Tantawy Mosque in Cairo early Friday together with number of the children of martyrs.
Grand Sheikh of Al Azhar Ahmed el Tayeb, Prime Minister Moustafa Madbouli, Defense Minister Mohamed Zaki and Chief of Staff Osama Askar also performed the prayers at the same mosque alongside other ministers and senior state officials.
Prayers started with Takbeer in praise to Allah the Almighty and then recitation of verses of the holy Quran.
The mosque's imam then delivered Eidul Fitr sermon, saying this blessed day is an occasion of mercy where people share love and make good deeds, noting that a true believer in God has a pure heart that does not know hate or deceit and that is filled with goodness and kind feelings for fellow mankind.
MENA