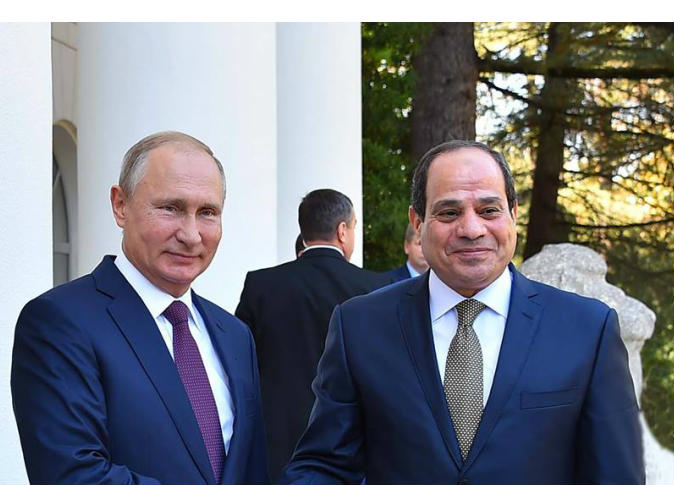 President Abdel Fattah al-Sisi on Monday discussed developments in the Libyan crisis with Russian President Vladimir Putin, with the two leaders affirming their pledge to work together to push for negotiations as soon as possible.
A Kremlin statement said that the two presidents discussed Libya's situation in detail, and that Russia praised the diplomatic efforts made by Egypt in this regard.
Sisi and Putin together stressed their joint determination to continue working to bring a ceasefire to Libya and start negotiations under the auspices of the UN as soon as possible.
The two presidents also discussed developing the strategic partnership between Russia and Egypt, including joint action within the fields of industry and nuclear energy, as well as cooperation in combating the coronavirus pandemic.
The UN has called on the government of reconciliation in Tripoli to conduct a quick and impartial investigation into war crimes committed by Libyan militias and Syrian mercenaries loyal to Turkey in the western Libyan cities of Asaba and Tarhuna.

In a statement, the UN Support Mission in Libya said: "Reports of the discovery of a number of corpses at the hospital in Tarhouna are deeply disturbing.  The Mission has called upon GNA authorities to conduct a prompt and impartial investigation.  We have also received numerous reports of the looting and destruction of public and private property in Tarhuna and Alasabaa which in some cases appear to be acts of retribution and revenge that risk further fraying Libya's social fabric."
On the ground, the Libyan army announced that its planes had destroyed a large bus carrying a number of Turkish officers west of the city of Sirte.
Sisi on Saturday launched a new plan to resolve the Libyan crisis dubbed the "Cairo Declaration".
This "Cairo Declaration" is a message to the world, Sisi said, and expresses a firm desire to enforce the Libyan people's wish goals of stability and development, to preserve the country's sovereignty and to put its interests first and foremost.
The announcement came during a press conference at the Ettehadiya Presidential Palace, in the presence of Libyan House of Representatives speaker Aguila Saleh, who arrived Friday morning, and the Commander-in-Chief of the Libyan National Army (LNA) Khalifa Haftar, in Cairo since Wednesday evening.
Sisi's plan will respect all international efforts to resolve the Libyan crisis thus far and includes a 48-hour ceasefire throughout Libyan territories, dismantling militias and handing their weapons over to the LNA, expelling foreign mercenaries out of the country, and resuming the 5+5 Libyan Joint Military Commission under the auspices of the UN.
The declaration also demands fair representation from all three of Libya's regions within its administration of governance for the first time in the country's history, holding fair elections without the interference of any militia, and launching a constitutional declaration regulating the country's political process.