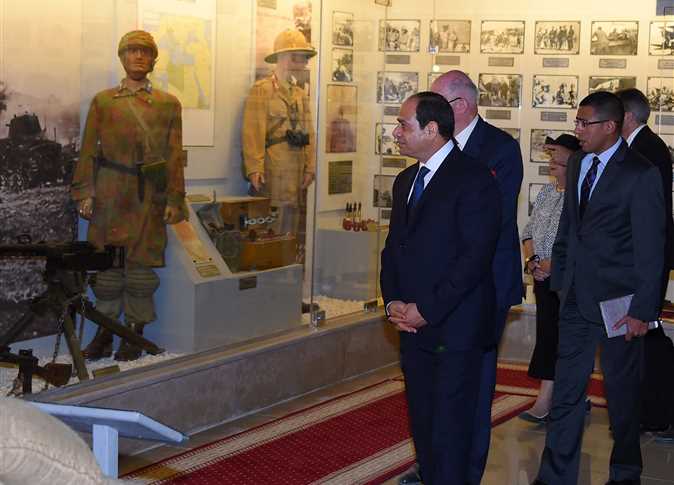 The cemetery of the Commonwealth War Graves Commission (CWGC) in al-Alamein hosted a ceremony on Saturday to commemorate the 75th anniversary of the Second Alamein Battle, which took place in 1942. The event was attended by Egyptian president Abdel Fattah al-Sisi.
"Today, on the land of Alamein, the land of peace, we commemorate one of the battles of the Second World War, the Battle of El Alamein, where thousands of victims have been killed and we renew a commitment to preserving the peace that has cost them dearly," Sisi said
He explained that the memory of thousands of victims who died in the battle of Alamein is driving him to renew the commitment to maintain peace with stronger efforts, especially in the Middle East, which  faces serious crises that threaten the very existence of the national state.
"75 years have passed since the battle of Alamein and its a memory will remain in our minds. We pay tribute to their families (families of victims) and their memories will remain steadfast," he said.
The British Embassy in Cairo coordinated the ceremony on behalf of all the countries that participated in the war, including Australia, New Zealand, India, South Africa, France, Germany, Greece and Italy.
The British embassy said in a statement on Saturday that the representatives of more than 35 countries in the ceremony commemorated those who died in this battle, which marked a turning point in the course of the Second World War.
More than 7,350 soldiers have been buried in Alamein war cemetery of the CWGC, including more than 800 unidentified soldiers. The World's Memorial carries the names of 1,200 other soldiers whose graves are unknown.
"Today, enemies of yesterday stand together to reflect on the past and to commemorate the soldiers who lost their lives 75 years ago. Now, we stand side by side, in cooperation with Egypt, to build a prosperous and democratic future," said UK ambassador to Egypt John Casson.
Edited Translation from Al-Masry Al-Youm