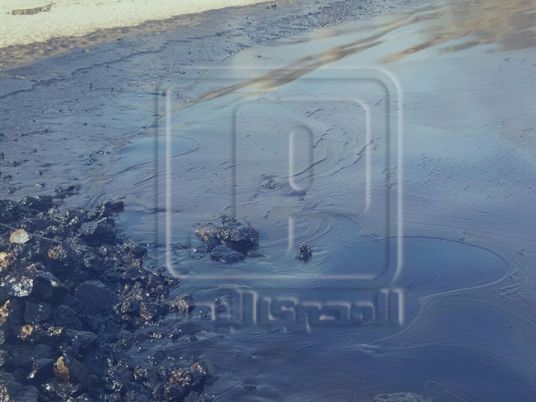 President Abdel Fattah al-Sisi has requested a report from the Red Sea regulatory authorities about an oil leak that has caused an environmental crisis off the coast of Hurghada since last week.
The President wants the report to include details of the damage done to the coastal area, action taken to stop and clear up the leak, and measures taken to prevent similar leaks in future.
The disaster started on June 24, when oil slicks were seen floating in the sea off northeastern Hurghada.
While the Environment Ministry initially blamed an unnamed oil company for allowing an oil leak and failing to prevent it spreading to the sea, a detailed report has since been drafted.
A committee of environmental protection groups has carried out daily research in cooperation with nature-reserve officials to determine the path and movement of the spills and the areas covered. The committee reported the presence of elongated and scattered spills stretching for about 15km and effecting three costal stretches.
They also studied the damage done to the natural environmental, the number of hotels and complexes at the popular Red Sea resort of Hurghada affected by the slick and the efficiency of authorities' response to the crisis.
A final, joint report drafted by the environmental committee and the company cleaning up the spill indicated that 245 tonnes of crude oil have so far leaked into the Red Sea, of which 330 square meters have been extracted from the sea. The oil was sucked from the surface of the water and transferred to the refineries of a petroleum company. Forty-five tonnes of sand have been contaminated by the slick.
The clean-up operation is costing the Environment Ministry and Petroleum Ministry between LE10 to 15 million.
Meanwhile, Environment Minister Khaled Fahmy has asked the Red Sea protectorates and the regional branch of the Egyptian Environmental Affairs Agency to draft a report on the extent of the environmental damage to be submitted to the prosecution. Investigations are to be carried out into responsibility for the spill and an estimate given for the expenses of the clean-up operation.
Edited translation from Al-Masry Al-Youm