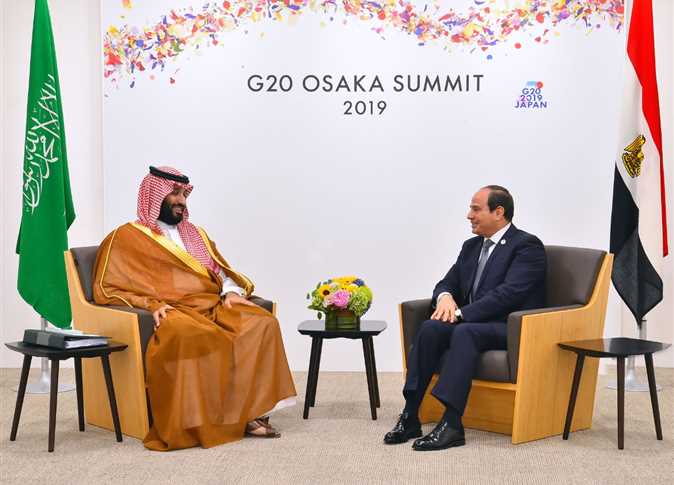 Egyptian President Abdel Fattah al-Sisi stated on Saturday that the security of the Gulf region represent a cornerstone of Arab national security to Egypt, and is linked to Egypt's own national security.
Sisi made these remarks during a meeting with Saudi Crown Prince Mohammed bin Salman on Saturday on the sidelines of the G20 summit held in Osaka, Japan.
During the meeting Sisi stressed close ties between the two countries and their common destiny and shared future, according to Presidential Spokesperson Bassam Rady.
According to Reuters, the Syrian crisis topped the talks held between Sisi and Salman on the sidelines of the G20 summit, Egypt's state TV said on Saturday, citing the presidency.
The presidency also said the talks between the two showed matching views regarding the latest developments in the Gulf region, state TV reported.
Sisi pointed to Egypt's keenness in coordinating closely with the Kingdom of Saudi Arabia towards developments currently taking place in the Middle East, within the framework of strategic relations between Egypt and Saudi Arabia, which are among the priorities of Egypt's foreign policy.
Sisi stressed that Egyptian-Saudi cooperation is an essential pillar for regional stability.
For his part, the Saudi Crown Prince expressed the appreciation and affection that Saudi Arabia holds towards the leadership and people of Egypt in light of the historical ties between the two countries, stressing deep and solid relations between Egypt and Saudi Arabia.
Rady said that the talks exchanged views on the most prominent issues on the regional arena, as discussions reflected a mutual understanding on ways to deal with those issues.
He added that it was agreed to continue joint efforts to strengthen cooperation among Arab countries in order to meet the increasing challenges and threats to regional security.
Edited translation from Al-Masry Al-Youm