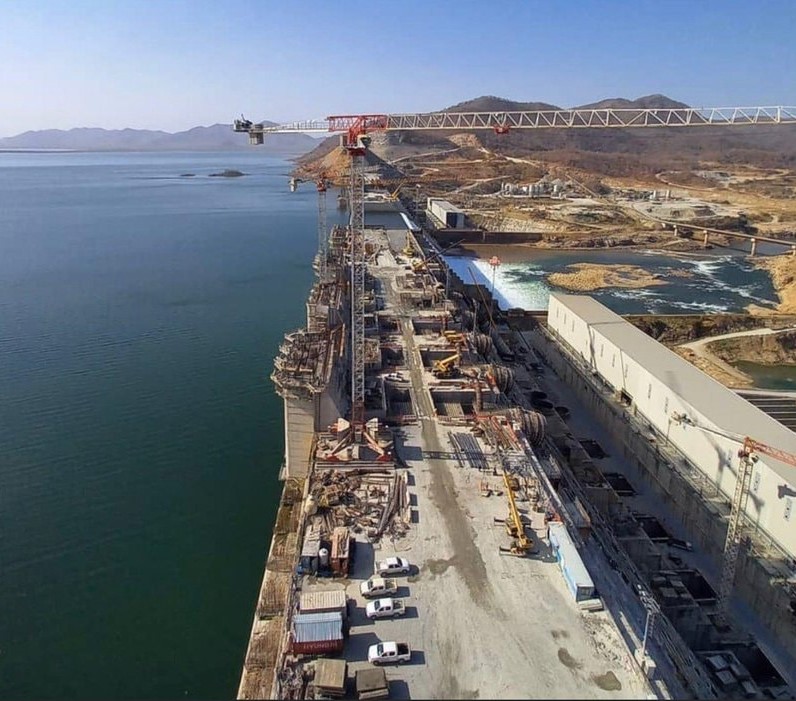 Egyptian President Abdel Fattah al-Sisi on Wednesday stressed Egypt's firm position in reaching a binding legal agreement regarding rules for filling and operating the Grand Ethiopian Renaissance Dam (GERD) in accordance with the relevant international laws.
During his meeting with the European Commissioner for Neighborhood and Enlargement Policy Oliver Varhelyi, Sisi said this is an existential issue for Egypt and its people.
Sisi received Varhelyi, in the presence of the Egyptian Foreign Minister Sameh Shoukry, and the European Union Ambassador to Cairo Christian Berger.
President Sisi hailed the important position that the European Union and its institutions enjoy within Egyptian policy, based on mutual respect and joint cooperation, given that Europe is Egypt's first trading partner.
Varhelyi affirmed the EU's interest in developing its partnership with Egypt in view of the two sides' participation in the Mediterranean regional neighborhood, and in light of the political weight that Egypt enjoys internationally and regionally as a link between the Arab and European worlds.
He also noted Egypt's importance in maintaining stability within the Middle East and the African continent.
The project manager of GERD Kifle Horo had admitted in statements to Al-Arabiya TV on Friday, that Egypt and Sudan might be affected by the filling operations of the dam, noting that the third filling would be in August and September.
Despite the possible effects on the downstream countries, he ruled out stopping the third filling process, considering it automatic . He stressed that the process of building the Renaissance Dam will not stop for any reason.
Negotiations over the GERD have officially stopped since April 2021, after Egypt, Sudan and Ethiopia failed to reach an understanding before the start of the second filling of the dam, which Ethiopia implemented in July.
Cairo and Khartoum reject Ethiopia's insistence on filling the dam before reaching a binding agreement on filling and operation.
Egypt, which relies considerably on freshwater from the Nile, has voiced fears that the GERD would negatively impact the country's water supply.
Egypt has also insisted that measures be put into place to protect downstream countries in case of drought during the dam's filling process.
Egypt and Sudan say they want a legally binding agreement, while Ethiopia says any pact should be advisory.
Egypt and Sudan consider the dam a threat to their vital water supplies, while Ethiopia considers it essential for development and doubling its electricity production.
The downstream nations fear possible blows to water facilities, agricultural land, and overall availability of Nile water.
Negotiations over the dam between Egypt, Ethiopia, and Sudan have stalled for years, with the three parties ultimately failing to reach any concrete agreement.
The disputed dam is the largest hydroelectric project in Africa, with a cost of more than four billion dollars. The construction of the dam began in 2011.
It is considered to be one of Egypt's most serious water issues.