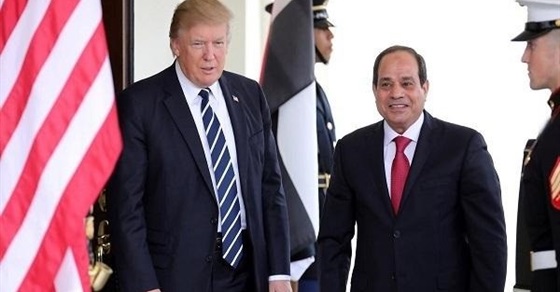 Egyptian President Abdel Fattah al-Sisi will present a speech to the Nelson Mandela Peace Summit on Monday, as part of the 73rd session of the United Nations General Assembly.
He also will meet US President Donald Trump, to discuss how to enhance strategic relations between the two countries regarding developments in the region.
Official sources said that Sisi, in his talk with Trump, will explain Egypt's capabilities in curbing militant operations in North Sinai.
He will also reportedly show Egypt's efforts to prevent the infiltration of terrorists through its border with Libya.
Sources added that the two presidents will discuss intelligence efforts to achieve reconciliation between Fatah and Hamas, and ease Israeli-Palestinian tensions.
Finally, discussions are claimed to include the US's suspension of aid to the United Nations Relief and Works Agency (UNRWA), and its effect on Palestinian refugees.
Sisi held meetings on Sunday with US politicians, President of the World Bank (WB) Jim Yong Kim, President of the European Council Donald Tusk, members of the American Chamber of Commerce and heads of global companies in United States.
Edited translation from al-Masry al-Youm.