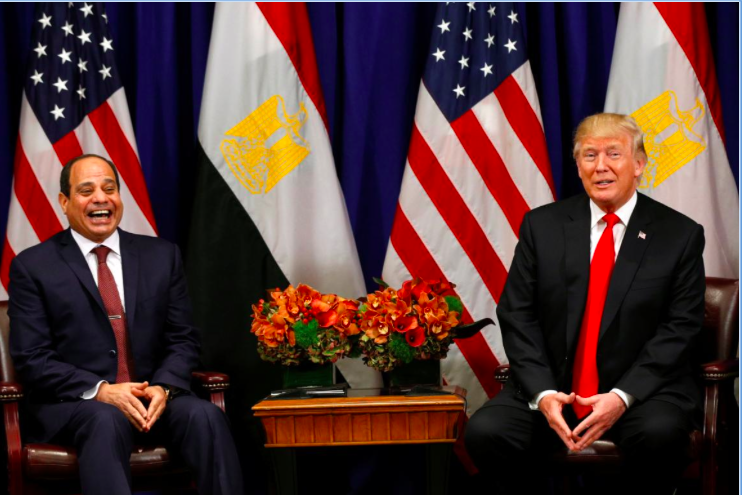 President Abdel Fattah al-Sisi will visit Washington during the second week of April on invitation from US President Donald Trump.
The visit comes as part of a framework between the two presidents aimed at strengthening relations between Egypt and the US to achieve their strategic interests, as well as continuing bilateral discussions on regional issues, said presidential spokesperson Bassam Rady.
The president's visit coincides with the 40th anniversary of the peace treaty signed by Egypt and Israel under American auspices in 1979.
The White House stated on Friday that Trump would meet President Sisi to discuss "military, economic and counter-terrorism cooperation" between the two countries.
The White House statement explained Sisi and Trump will discuss strengthening the strategic partnership between Egypt and the United States, along with strengthening cooperation between the two countries in military and economic fields, combating terrorism, discussing developments in the Middle East region along with common priorities such as economic challenges, the resolution of ongoing conflicts, and Egypt's pivotal role in promoting regional stability.
Egypt is the second-largest recipient of direct US investments in the Middle East, reflecting the strength of relations between the two countries.
The US is among the top 10 foreign countries with direct investments in Egypt, reaching US$2.6 billion at the end of July.
According to Amcham Egypt, Egypt is among the top recipients of US bilateral foreign assistance since 1979. Egypt received US$1.42 billion in foreign assistance from the US in 2017, thus making it the second largest receiver of foreign assistance from the US, second to Israel.
Between 1948 and 2017, the US provided Egypt with $78.5 billion in bilateral foreign aid, including about $1.3 billion a year in military aid from 1983 to 2017.
Edited translation from Al-Masry Al-Youm