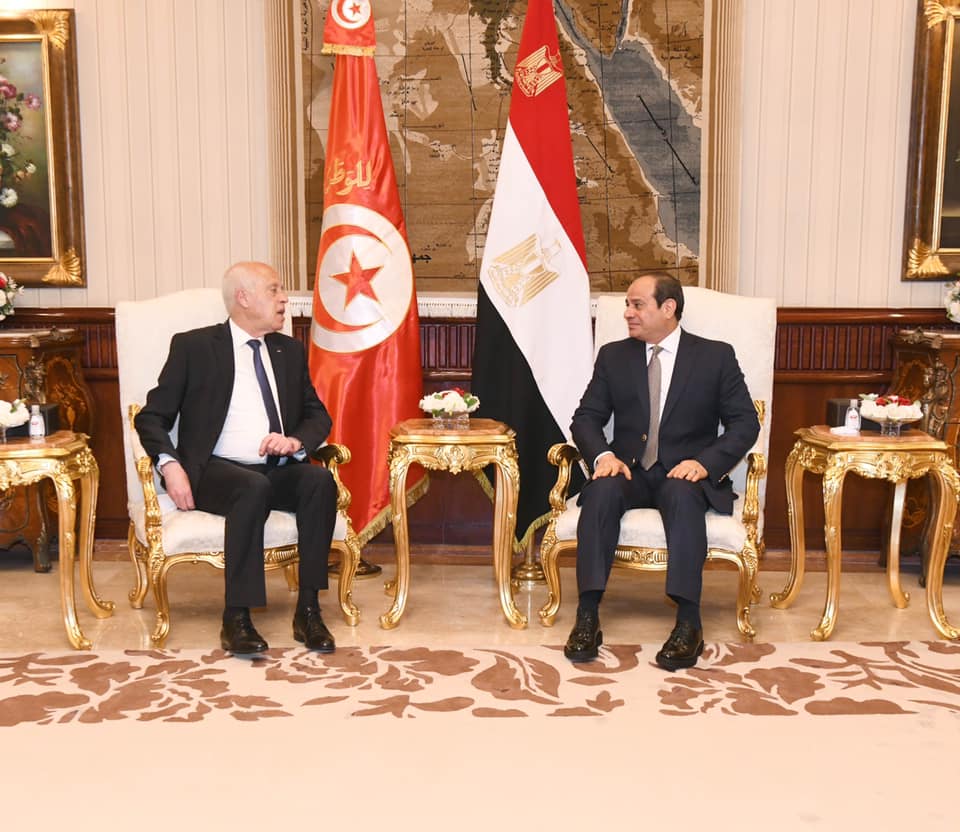 Egyptian President Abdel Fattah al-Sisi on Saturday held talks with with his Tunisian counterpart, Kais Saied, discussing topics such as Libya, combating terrorism and the Grand Ethiopian Renaissance Dam (GERD).
Sisi received Saied at the Cairo Airport on Friday afternoon as part of his three-day official visit to Egypt.
On Saturday, an Egyptian-Tunisian summit meeting was held at the Ittihadiya Presidential Palace between the two presidents.
Egyptian presidential spokesperson Bassam Rady explained that a separate session of talks was held between the two presidents, followed by an expanded session for the delegations of both countries.
Sisi touched on the GERD dilemma and went over the latest developments regarding it, with Saied stating that he valued the sincere efforts made by Egypt to reach a fair and comprehensive agreement regarding the rules for filling and operating the dam to preserve its water rights.
The meeting also witnessed discussions on the latest developments in Libya, with the two presidents agreeing to intensify coordination on the matter as Egypt and Tunisia represent two direct neighboring countries that share extended borders with Libya, thereby feeling any direct repercussions of the Libyan crisis on their national security.
The Egyptian President noted that consultations between Tunisia and Egypt have recently increased regarding various regional issues of mutual interest, especially in light of Tunisia's current membership in the UN Security Council.
Sisi affirmed his country's eagerness to exert more effort to advance bilateral cooperation, especially in strengthening effective communication channels between the two sides economically while maximizing the volume of trade exchange and increasing intra-investment.
The Tunisian president on his end also stressed Tunisia's keenness for further coordination with Egypt at all levels, whether regarding bilateral issues or regional and international issues of common interest.
According to Rady, the meeting also saw discussions regarding security cooperation, especially in light of the common challenges the two nations face such as combating terrorism and extremist ideology.
Both sides agreed on the need to strengthen security cooperation and share information on the matter.