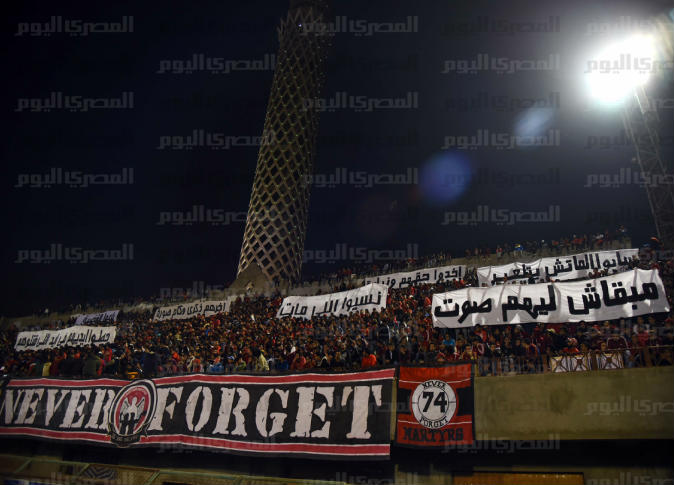 President Abdel Fattah al-Sisi has proposed initiating a dialogue with hardcore football fans, known as the Ultras, on the fourth anniversary of the Port Said Stadium rampage that killed 72.
"Delegate 10 of you to brief the (Ultras) on the results (of investigations) … It is no secret, they (the Ultras) have the right to know everything under the presidency's auspices," the president told presenter Amr Adib in a phone call on Al-Youm channel late Monday.
"I was close to the Port Said Ultras massacre issue, and nothing was achieved," continued the president, who was military intelligence chief at the time of the incident. "There was no clear truth that we can assuredly settle on. Somebody is hiding something that we do not know of."
In June, the Port Said Criminal Court sentenced 11 people to death over charges of murdering 72 Al-Ahly Club fans after attacking them during the team's premier league encounter with Port Said hosts Al-Masry. The court sentenced 41 people to 5-15 years hard labor and acquitted 21 others of all charges.
The Ultras have been at loggerheads with security authorities since their participation in the 2011 uprising, praticipation which some analysts attribute to the uprising's success, chanting anti-police slogans and being involved in several stadium encounters with security since then.
"As a state, we have failed until now to properly address that issue," Sisi stated, commenting on the conflict with the Ultras. "What matters is that someone, like an official or a club president, finds a way to outreach to the Ultras' minds, they are our sons."
Sisi's call came after Ultras Ahlawy fans invaded Al-Ahly club's pitch during a team training exercise on Monday to mark the catastrophe's anniversary, chanting anti-regime slogans.
Commenting on Sisi's call, Zamalek Club President Mortada Mansour, a harsh opponent to the Ultras, opposed the invitation.
"I disagree with you, Mr. President. I had met with the Ultras many times, and every time their response was insulting the army," Mansour told LTC channel on Monday. "No dialogue with a terrorist group, dialogue with them should be to put them in jail."
Edited translation from Al-Masry Al-Youm