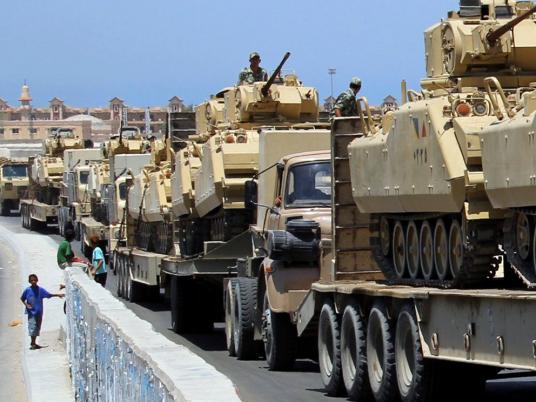 Six suspects in the Sunday attack in Sinai were arrested following a joint operation between the police and the armed forces in Sheikh Zuwayed, North Sinai, state television reported on Friday.
The operation was part of a larger crackdown in the Sinai area after a series of assaults were launched against security checkpoints, beginning with Sunday's attack on the Egypt-Israel border near Rafah which left 16 soldiers dead.
The arrested are "terrorist" elements, state TV quoted a military source as saying.
State-run newspaper Al-Ahram also quoted a high-level military source as saying that the suspects belong to radical groups.
"The [attacks] are carried out in the darkness of the night because the [attackers] do not dare to move in the day. Security forces have identified where the majority of them are and watch them closely, especially in the hot spots," the military official told Al-Ahram.
Al-Ahram added that security forces have intensified their presence in a number of areas in North Sinai where wanted suspects are believed to be hiding, including the Mahdeya village, the Omar valley, the Gawra area, Sheikh Zuwayed and Gabal al-Halal.
The source added that Mahdeya village is considered to be the largest arms trade center in North Sinai and that security forces aim to eliminate similar spots because they provide radical groups with sophisticated arms.
"No matter what kind of weapons these terrorists possess, that will not prevent the armed forces from eliminating them," the source said.
Attacks on checkpoints continued on Thursday evening when anonymous gunmen attacked the Rayesa checkpoint on the Arish-Rafah International Road.
Eyewitnesses said that the gunmen attacked the checkpoint from mountain areas more than once and security forces exchanged fire with them.
The Rayesa checkpoint had been attacked 29 times since the outbreak of the 25 January revolution. Thursday's attack was the 30th. The checkpoint is located on the international road at the eastern entrance of Arish City and is manned by police officers and armed forces.