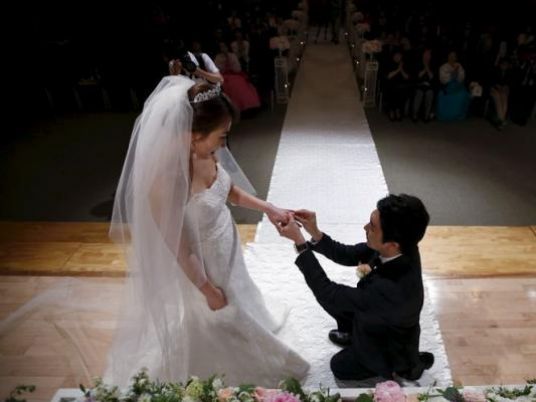 The night before their wedding, Kim Kwang-yoon and Cho Jin-oh were up until 2 am with the bride's mother, setting tables. Their marriage venue: a room in the basement of Seoul city hall, rented from the government for US$60.
With South Korea's average wedding expenditure last year at nearly $64,000, or about double that of the United States, more citizens are spurning lavish events for smaller functions as the economy slows, the age at marriage rises and parents nearing retirement have less money to splurge.
South Korean weddings are typically a show of status, with hundreds of guests and expensive gifts. The average expenditure, from a survey by wedding planner Duo, excludes the cost of housing, traditionally provided by parents.
"I felt that if I don't like getting invitations from people I don't know very well, they would feel the same. I wished for my wedding to be celebrated by people I wanted there," said Cho, 32. She and her 34-year-old husband paid the $10,000 cost of their recent wedding themselves.
Huge marriage expenses prompt more young people to delay marriage, and consequently children, worsening one of the world's lowest birth rates in a population that is ageing the fastest in the industrialized world.
To boost marriage rates from an all-time low in 2014, the government is renting out public buildings cheaply.
The trend began to take off last year, spurred partly by celebrities, said Kim Jung-youl, an official of the Ministry of Gender Equality and Family.
Last month, movie stars Won Bin and Lee Na-young got married in a wheat field 150 km (93 miles) from Seoul, amid fewer than 50 guests.
Kim and Cho, who sell indoor lighting online, saved on the venue and Cho's wedding dress, bought online for $100, but a two-week honeymoon to Paris soaked up half their spending.
"Weddings turned into lavish affairs because South Koreans were packing traditions from here and the West into one," said Lee Sung-hee, a senior planner at Duo, the country's largest matchmaking and wedding consultation company.
That is changing as the average age at marriage climbs. The small wedding trend also brings relief for parents, as South Koreans in their 50s and 60s are the most heavily-indebted in a country whose household debt ranks among the world's highest.
Half of Duo's queries come from couples wanting small weddings, up nearly three times from 2008, Lee said, adding, "As couples to be married get older, they can stand up to conventional culture and their parents' demands more easily."