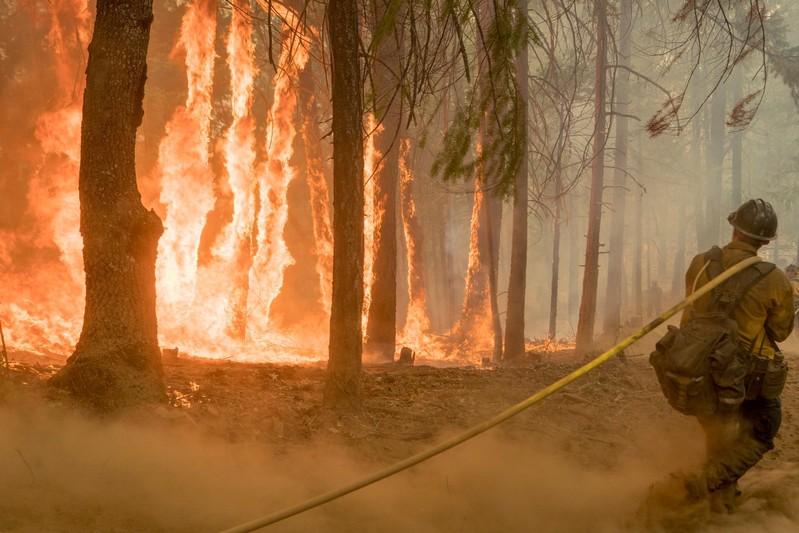 For the past two weeks, a wildfire has forced much of Yosemite National Park in California to close, with smoke blanketing its famous rock formations and clouding the summer travel season for one of the largest tourism economies tied to a US park.
Steven Anker, 53, has seen business decrease by 80 percent at his Priest Station Café in nearby Groveland."People come to Yosemite to see the outdoors. If the air quality is bad, they just won't go," Anker said.
Wildfires burning in the US West have scorched 5.6 million acres (2.3 million hectares) this year, including parts of other national forests, the National Interagency Fire Center said on its website. But the Ferguson Fire in Yosemite has stood out as particularly damaging to local tourism.
"The gateway communities around Yosemite are our top concern," Caroline Beteta, president and chief executive officer of the tourism group Visit California, said in an email. "They are losing significant business during peak season."
The area around Yosemite has the seventh largest tourism economy connected with a US national park, with 4.3 million visitors spending an estimated $452 million in 2017, according to the National Park Service.
While Beteta had no official estimates for how much wildfires have hurt tourism, the concern is that potential travelers alarmed by the blazes are canceling trips. Nearly 20 percent of visitors to California go to a national park, making them important drivers of tourism, she said.
Yosemite is due to reopen on Tuesday, though with limited hours and services, the park said on Friday. Spokesman Scott Gediman said the fires have been contained away from the park, though smoke is still a problem at times.
"I'm watching a helicopter dip water out of river with one of those long hoses," he told Reuters by telephone from his office at the park. "They're still fighting fires."
Roads are money
Local businesses around the park this summer have lost millions of dollars in revenue on everything from hotel rooms to trinkets, with occupancy rates at many hotels approaching zero, said Rhonda Salisbury, chief executive of the Yosemite Sierra Visitors Bureau.
The fire has triggered road closures for large sections of the park, including the Yosemite Valley, which has been cut off to visitors since July 25.
"Roads are money, and without the roads open, we die," said Doug Shaw, who operates the Yosemite Bug Rustic Mountain Resort near the park. Shaw had to lay off some staff and lost about $200,000 in potential profits, he said.
The Ferguson Fire has caused two deaths and scorched about 100,000 acres (40,500 hectares) at Yosemite, which is about 150 miles (240 km) east of San Francisco. It broke out on July 13, when local businesses usually count on a large influx of families with children on summer vacation.
The fire has also hurt businesses such as Skydive Yosemite, which on its website touts "amazing views of Yosemite National Park." Those views have been obscured by billowing clouds of smoke.
In the past, customers could see Half Dome and El Capitan while plummeting to Earth during a tandem jump, said Skydive Yosemite co-owner Paul Wignall, but smoke blocked those views.
The company had 10 cancellations in August, he said.
No Shakespeare
California has seen the worst start to its fire season in a decade, and officials from the National Aeronautics and Space Administration said satellite images show two-thirds of the state covered in smoke.
Smoke from fires in Northern California have even reached Oregon to the north. As a result, the annual Oregon Shakespeare Festival in Ashland has canceled 12 outdoor shows due to poor air quality, causing a loss of about half a million dollars, said Linea Gagliano, a spokeswoman for the Oregon Tourism Commission.
Tourism officials in some other parts of the US West, such as Montana, Idaho and Utah, reported minimal damage to their local travel and leisure industries from wildfires.
But the local tourism economy of Durango, southwest Colorado, is still feeling the effects from a wildfire. When the 416 Fire burned parts of the nearby San Juan National Forest in June, hotels in Durango saw occupancy rates fall below 30 percent, said Theresa Blake Graven, spokeswoman for the Durango Area Tourism Office.
Back in Yosemite, park spokesman Gediman said the rare interlude of quiet at the peak of summer has given wildlife free rein in the valley.
"The bears are walking around eating apples off the trees and the berries. We saw a mama bear and her cub by a hotel, the gray foxes are out … So for me it's been fun to see."
Additional reporting by Diana Kruzman in New York and Bill Tarrant in Los Angeles; Editing by Bill Tarrant and Frances Kerry