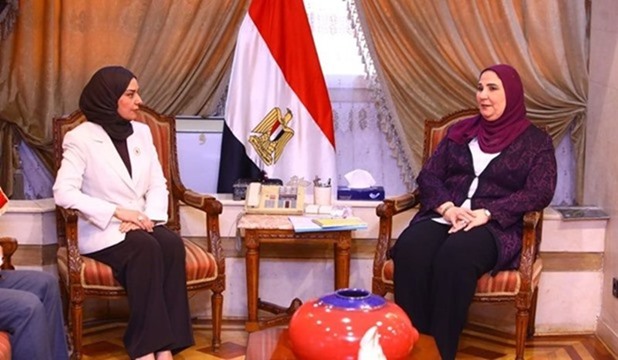 Social Solidarity Minister Nevine Kabbaj had talks on Saturday with Bahraini Ambassador to Egypt Fawzia bint Abdulla Zainal on means of promoting bilateral cooperation in various domains, topped by economic empowerment and legislations for the most needy families and digitizing the civil work mechanism.
The talks also tackled means of benefiting Egypt from Bahrain's experience in taking care of elderly people, marketing handicrafts and promoting voluntary work.
Kabbag lauded the amicable ties between the two countries, noting that the ministry is working on social protection file through offering food, health and social support as well as minimum income to most needy families.
The ministry is also implementing economic empowerment programs to support rural women to join labor market and establish small businesses.
She also referred to supporting handicrafts via exhibitions that witness the participation of various Arab countries as well as legislation for supporting children and elderly people.
Minister Kabbag noted that the national strategy for human right launched by Egypt was feted at the international level.
For her part, the Bahraini ambassador lauded the depth of bilateral ties at economic and political levels, expressing desire to bolster cooperation in social and economic empowerment of needy families.