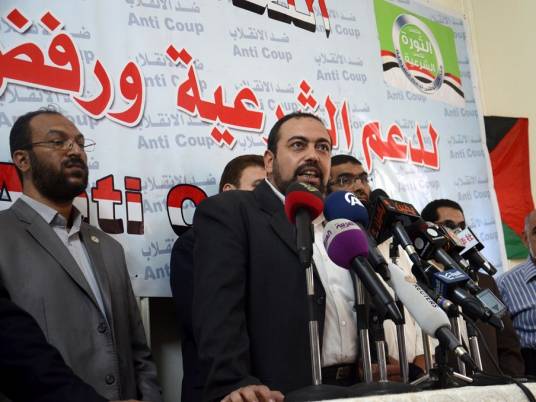 Some leaders from the National Alliance to Support Legitimacy, formed to support the legitimacy of toppled President Mohamed Morsy, called on its supporters to abandon their peaceful tactics in protests scheduled for 14 August on the anniversary of Rabaa al-Adaweya and al-Nahda sit-in dispersals, adding it is
their last chance to confront the current regime.
NASL leader and Fadila Party chairman Mahmoud Fatehy said that abandoning non-violent tactics is now the only hope for Morsy suporters to avenge the protesters killed in Rabaa and al-Nahda squares.
Fatehy criticized other NASL leaders who requested maintaining peace during protests and called for developing plans to confront police officers and forming blacklists with names of residents who take part in confronting the pro-Muslim Brotherhood protests.
Fugitive activist Abdel Rahman Ezz called for seizing the last opportunity by forming brigades similar to Ezz Eddin al-Qassam Brigades, the military wing of Hamas.
Ezz called, in a message broadcast from Qatar, for forming an armed wing for the Brotherhood, dubbing it as "Banna Brigades."
Ezz urged all Islamists opposing the current regime to take part in forming the brigades.
NASL sources said there was an agreement with the Brotherhood to stage simultaneous marches on 14 August in different areas.
The sources added that there were new tactics to confront the violence of the security forces.
They added that protests are planned on Mostafa al-Nahas street, Abbas al-Aqqad street and the Republican Guards Club.
Edited translation from Al-Masry Al-Youm