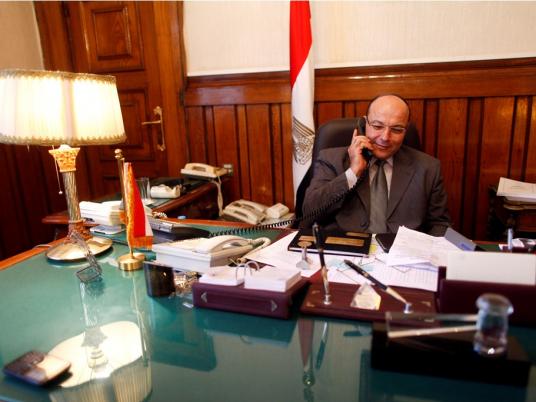 Sources close to Prosecutor General Talaat Abdallah said Tuesday that the Justice Ministry and Muslim Brotherhood's Guidance Bureau are discussing a possible position for Abdallah in the next Cabinet.
Abdallah, who is in limbo after a court ruled his appointment was illegal, remained in his post on Tuesday and has so far refused requests for him to join other Public Prosecution departments.
Some judges interpreted the move as an attempt to improve his public image, while others said he has been extremely worried since President Mohamed Morsy met with the Supreme Judicial Council.
A judicial source said Abdallah was offered the minister of state post for the House of Representatives and the Shura Council, adding that Abdallah is looking for a way to exit gracefully as prosecutor general.
Meanwhile, Dostor Party founder Mohamed ElBaradei said Morsy and his supporters are responsible for Egypt's ongoing political polarization.
"To Dr. Morsy and those with him: I hold you … fully responsible for the polarization that is tearing our homeland apart. Listen to the voice of reason before its too late," ElBaradei wrote on his Twitter account Tuesday evening.
"To start: withdraw the bill on the destruction of the judicial authority, create an independent and capable Cabinet, appoint a new top prosecutor and then host a serious national dialogue. Ignorance and stubbornness will destroy the country."
Edited translation from Al-Masry Al-Youm