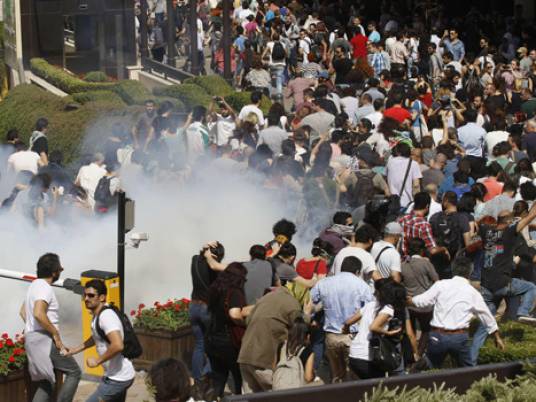 Diplomatic sources denied Saturday news reports that an Egyptian woman was injured during protests that erupted Friday in Istanbul, Turkey.
The Egyptian consulate in the city contacted the Turkish authorities over the reported incident and was told that the woman is not Egyptian but a citizen of a different Arab country.
On Friday, Reuters reported that a doctors' association had told the news agency that an Egyptian tourist was in critical condition after being hit by a police gas canister in a crackdown on anti-government protests.
The 34-year-old woman was undergoing an operation after suffering a brain hemorrhage, Istanbul Medical Chamber board member Huseyin Demirduzen told Reuters.
Ambassador Wafaa El-Hadidi, the Egyptian Consul General in Istanbul, decided to keep the consulate's gates unlocked during the day in order to receive Egyptians who might seek protection from the ongoing turmoil.
Diplomatic sources said on Saturday that the consulate received Egyptians who asked to spend the night there after being unable to reach their homes due to the confrontations.
Sources added that the consulate in Istanbul was warning all Egyptian residents and tourists in Turkey to stay away from Taksim Square and the surrounding areas, where confrontations between police and protesters are continuing and the number of injured is increasing.
The consulate announced emergency phone lines citizens should call to ask for help. The phone numbers are (00902123242133), (00902123242160), and (00905432881544)
Edited translation from Al-Masry Al-Youm